Over the past decade, Albertsons has gone from being a public company to a private equity asset, and from one of America's biggest grocery conglomerates to having half the market share of Trader Joe's. Now, after a whirlwind of acquisitions, it has filed to go public again as America's second largest pure grocer, with 18 brands and 2,205 stores in 33 states.
Albertsons was largely dismantled in 2006 after nearly 50 years as a public company. It was bought out by a consortium, with a group led by private equity firm Cerberus buying a portion of the stores, and most of the rest going to rival chain SuperValu. At its low point, the Albertsons stores owned by Cerberus had US market share of just 0.4%. Then came an aggressive series of deals to expand its store count and national reach.
The company bought NAI from SuperValu in 2013, which returned the Albertsons stores that had been sold off, and added a number of other brands. Later that year, it acquired United, a Texas grocery, and finalized its purchase of Safeway for $9.4 billion in early 2015.
It's now behind only Kroger as a pure grocer, and Kroger and Wal-Mart in terms of overall grocery market share, according to Euromonitor:
It now has a pretty national presence, after being concentrated mostly in California: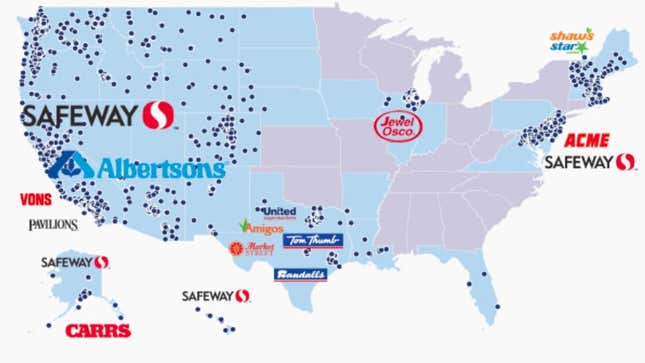 The company would have had sales of $57.5 billion in 2014 on a pro forma basis (including Safeway and removing some merger charges) and a $385 million loss. On its own, it lost $1.2 billion on sales of $27.2 billion.
The IPO comes at at time when traditional grocers are under threat. Wal-Mart has been enormously successful in grabbing market share with its superstores. And Whole Foods is  looking to expand beyond its pricey, urban demographic. Albertsons' IPO prospectus also cites growing competition from e-commerce companies like FreshDirect and Amazon.
Investors will have to see if the company can successfully combine all of these different parts into a cohesive company, and if its cost-cutting, acquisition, and decentralized regional management strategy can return the company to real profitability.