The couture shows, currently underway in Paris, could be said to represent the pinnacle of femininity in fashion. Couture is about women, and the most fanciful, elaborately constructed gowns a designer can conjure to clothe them. There are no couture men's shows.
So it was notable that John Galliano, in his first return to Paris haute couture since his firing from Dior, sent a trio of guys down the runway at his amazing show for Maison Margiela yesterday (July 8). But more than just carrying on fashion's ongoing obsession with blurring gender lines, the models played perfectly into the guiding principles that made the collection a resounding success: strangeness and transformation.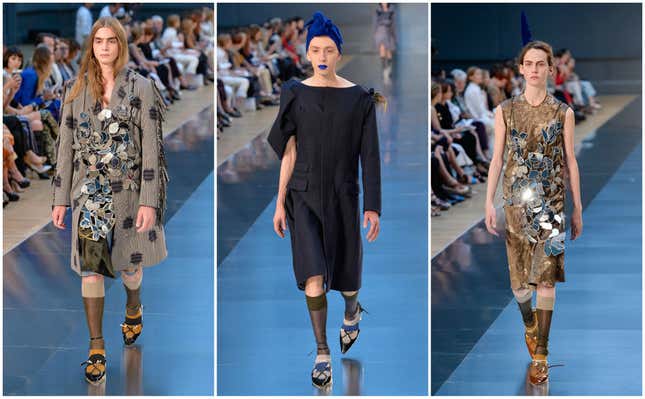 One look featured in the show appeared to be made of burlap rice sacks, cut and sewn into a coat and then delicately embroidered with a brightly colored peacock. (It was a much fancier version of Lucy Ricardo's burlap gown.)
Another piece, in vibrant Yves Klein blue, looked like it started life as a shop apron before deciding to extend into a dress, and featured a girly bow morphed into utilitarian pockets.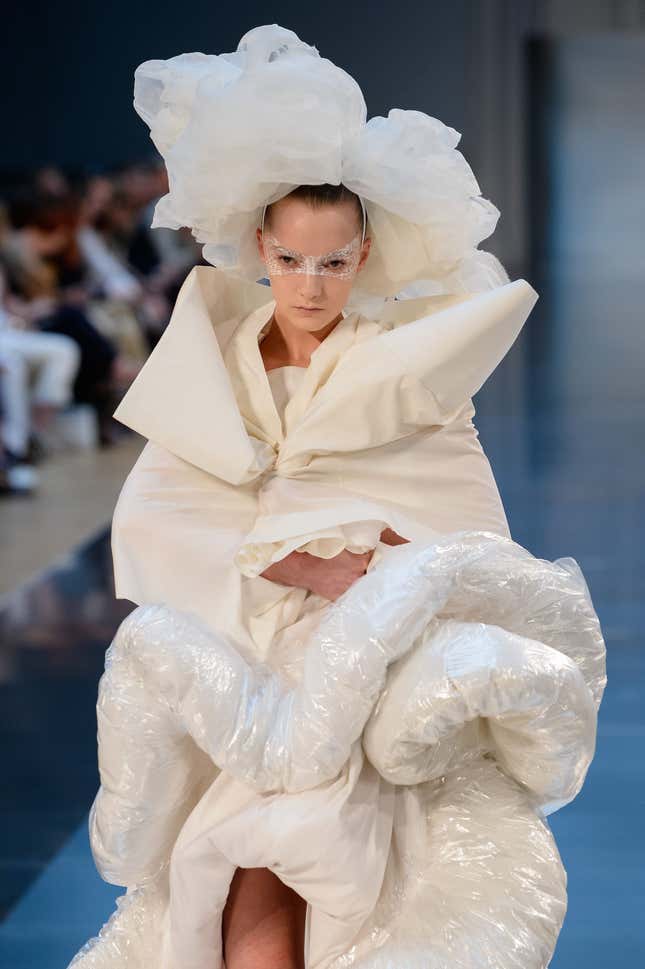 The climax of the show arrived in a bridal gown that recalled origami made of a duvet—perhaps a direct nod to house founder Martin Margiela's use of home furnishings—and wrapped strategically in clear plastic. It was a symbol of femininity, gleefully subverted.
Kind of like those male models: Roan Louch, John Whiles, and Carl Hjelm Sandqvist. Waifish, with high cheekbones and long hair, they weren't even immediately recognizable as men, and consequently showed that idealized femininity—or the fashion industry's conception of it, at any rate—isn't restricted to females.
It was weird and dramatic, as Galliano has been throughout his career, and as has been his tenure thus far at Maison Margiela. This is the same designer, after all, who inventively sent models skulking and creeping down the catwalk in place of their usual gait.
At the same time, Galliano managed to incorporate his signatures, such as red-carpet ready pieces that will undoubtedly have celebrities like Amal Clooney, who Galliano dressed for the Met Gala, lining up.
And yet that motif of turning one thing into another—burlap sacks into a coat, a shop apron into a dress, men into women—was also very much in keeping with the deconstructive ethos and experimentations of Martin Margiela.
It was Galliano's best collection to date in his new role—a terrific fusion of his vision and the house founder's—and shows that Galliano has managed to do what was once unthinkable: he's transformed Maison Margiela itself.