A qigong mystic whose clients include some of China's political and business elite was detained by police in southeastern Jiangxi province on July 16, after the brutal murder of one of his disciples.
Wang Lin, a so-called "qigong master," was detained by police with three other suspects after Zou Yong, a fuel company president and Communist Party official, was kidnapped and killed on July 9, state-run Xinhua reports. Zou had been dismembered and thrown into a local lake, the Beijing News (link in Chinese) reported, citing an anonymous source.
Two of the suspects have admitted to kidnapping and killing Zou, Xinhua said. Wang, whose alleged powers include being able to conjure snakes out of thin air and cure cancer, is being questioned by the police.
The case has focused attention on qigong, the Chinese martial art and spiritual practice that focuses on the "qi" or life-force. While it is considered outdated by younger people in China, it still followed closely by older politicians and the business elite. Wang's followers have included former Chinese leader Jiang Zemin's sister, president Hu Jintao's sister, a former Chinese health minister, the head of China's Supreme People's Procuratorate, actor Jet Li, and Alibaba's Jack Ma.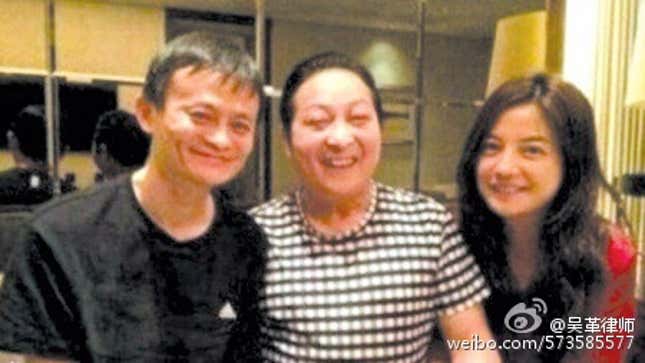 Before Zou's death, he and Wang had a long, complex history.
Zou, who was the Jiangxi province's deputy to the National People's Congress, China's legislative body, paid 5 million yuan ($805,192) to be a disciple of Wang in 2009, according to Xinhua. Then things went sour, though. The two filed several lawsuits against each other over commercial disputes since 2013, Xinhua reported (link in Chinese).
According to the Beijing News, after paying a hefty sum to become Wang's disciple, and buying him a Rolls-Royce car worth 4.4 million yuan (about $700,000), Zou was not satisfied with what he learned from Wang. Then, they had a commercial dispute over two properties in Shenzhen and Hong Kong. In 2013, Zou told authorities Wang had illegal guns and an unlicensed medical practice. Local police and health authorities failed to convict Wang due to lack of evidence.
According to state-run digital publication The Paper (link in Chinese), Wang promised in a letter dated January 11 2015 that he would pay a reward of 5 million yuan if Zou was arrested and sentenced to death. The publication included an alleged photo of the letter, which included Wang's Hong Kong ID number, and fingerprint.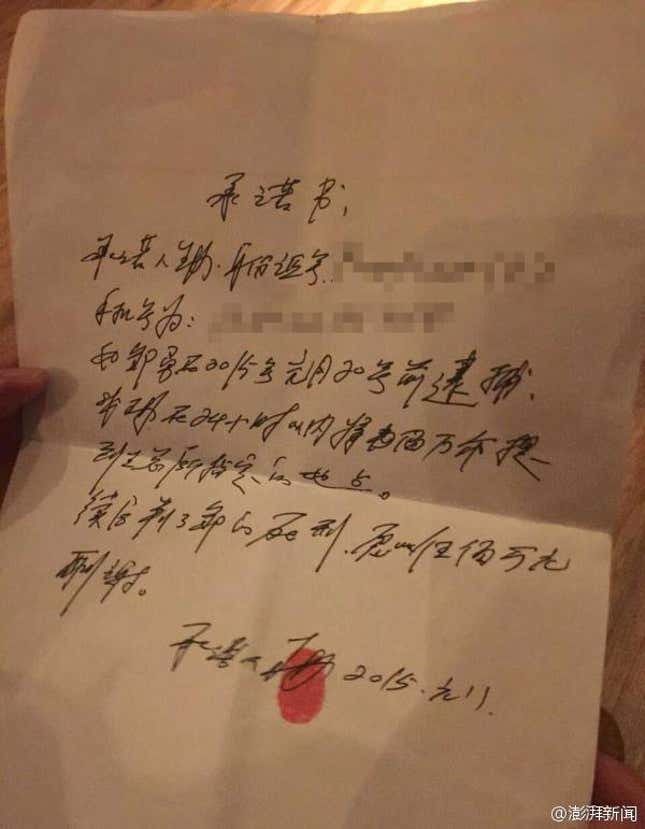 How this connects to Zou's brutal killing is unclear. Wang has a history of threatening his detractors. After media reports questioned him of faking supernatural powers to accumulate wealth in 2013, he reportedly (link in Chinese) told a commentator: "I can use qigong to poke you to death across dozens of meters."
The juxtaposition between Wang's alleged powers and Zou's brutal death is not sitting well with China's netizens. "It's not reasonable. The master can poke people to death across air, why did he bother to send someone to do this?," one blogger wrote on Twitter-like Sina Weibo on July 17 after Wang's detention. "So many leaders and big stars can also prove his magic. How dare the police challenge those big shots?"
Zou once told Chinese media (link in Chinese) that Wang had promised disgraced railway minister Liu Zhijun he would set up a magic stone in his office, so he would never fall from power. Liu was sentenced to a suspended death sentence for taking bribes in 2013.
"Some do believe in his power, some just play dumb in order to get into this circle of the rich and the powerful," an anonymous person familiar with the Wang case told Xinhua.
Being a Qigong master can be a lucrative profession in China, but it hasn't been so lucky for clients recently. China's ex-security czar Zhou Yongkang's qigong teacher Cao Yongzheng was known as the "Xinjiang Sage." Zhou trusted Cao so much he leaked him "confidential" documents. Cao became an integral witness in the trial against Zhou, who was sentenced to life in prison this year.