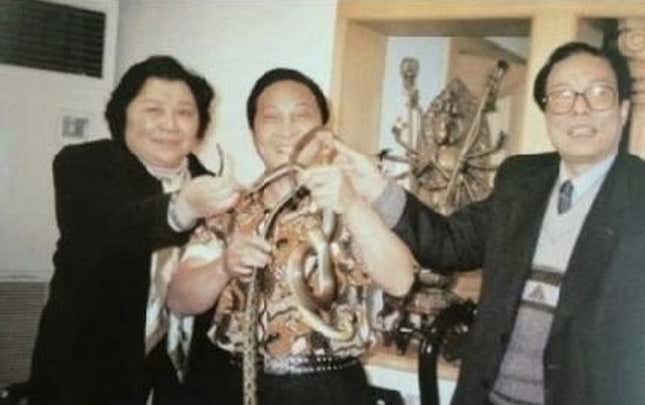 A wealthy Chinese martial artist who claims he can conjure snakes from empty bowls and heal cancer just lost one of his most important sources of power: obscurity. Wang Lin, a 61-year-old qigong teacher known in his small town in Jiangxi province for his healing powers, is now in headlines in Chinese media after a Beijing Times report (article in Chinese) delved into Wang's life and began questioning not just the source of his fortune, but also his supernatural abilities.
According to the report, Wang's real power isn't so much the healing he offers to clients, which he has credited for his growing fortune over the past 20 years. Instead, the report alleges, he is paid handsomely to connect wealthy business people to powerful officials in the government. The story says Wang lives in a five-story villa and owns two Hummers as well as one Rolls Royce. Wang disputed the story and reportedly "cursed" the journalist who wrote it. (Wang, on a microblog account, said he never threatened the reporter.)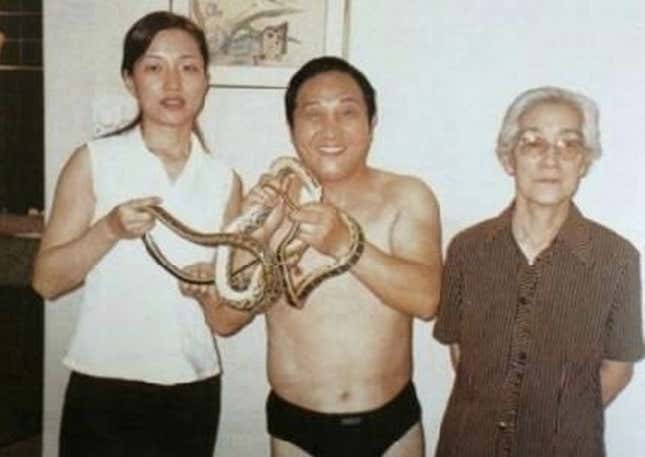 The story and the back-and-forth have caused a flurry of commentary on Chinese internet forums. That China's rich and powerful would be taken by Qigong, a Chinese martial art based on ancient Chinese philosophy that has mostly gone out of style in China since the communist revolution, is weird enough. In one online poll (registration in Chinese required), most Chinese online respondents said they don't believe in its supernatural ability.
But the allegations also speak to the grievances regular citizens have against Chinese elites: classism, a culture of guanxi, or connections, and conspicuous wealth. One post, a slideshow of photos of Wang with celebrities and officials has been forwarded over 15,000 times and garnered over 6,000 comments. One blogger wrote, "Troubled evildoer, crafty witchcraft. Master Wang Lin is a mirror of official corruption." Several referred to Wang as a "monster," using a phrase once used by Mao Zedong to describe the party's enemies that translates roughly as "a cow's ghost, serpent spirit." One blogger said, "These people should be expelled from the party."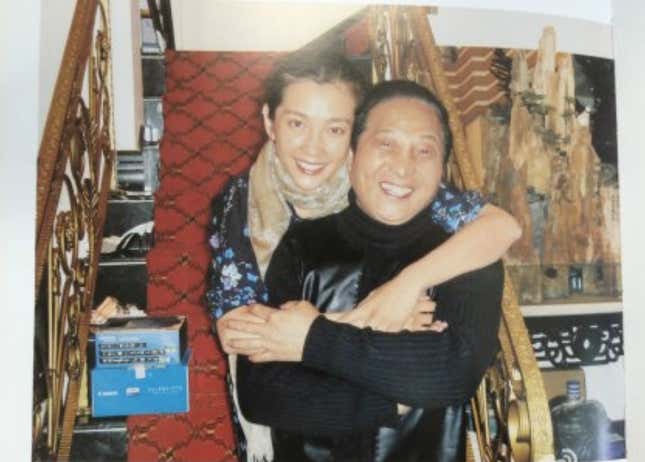 According to the report, Wang's followers are not local villagers; He hardly ever treats locals and instead focuses on China's highest social strata. Photos from a collection Wang kept labeled "Chinese people" have been circulating online. He is shown posing with former Chinese leader Jiang Zemin's sister, as well as Hu Jintao's sister, a former Chinese health minister, the head of China's Supreme People's Procuratorate, the highest agency for state prosecutions, actor Jet Li, and Ma Yun, founder of Chinese e-commerce firms Alibaba and Taobao. One blogger, according to the blog Offbeat China, wrote, "From these pictures, one can understand China. These rich and powerful crawl under the feet of Wang. It's both laughable and pitiful. We are truly living in the worst of times."
Watch Wang conjure a snake out of a basin, starting at about two minutes and 33 seconds. (It takes about four minutes.)