The official relaunch of a men's fashion week in New York has wrapped. It's too early to tell whether the week will serve its intended purpose: to generate attention and sales, and generally make life simpler for New York's menswear designers in the long term.
But as for the actual shows, they left something to be desired—particularly compared with the exciting, innovative men's collections in Europe that New York is supposed to stand beside. And paradoxically for a scheme meant to boost bottom lines, it's the commerciality of much of New York's menswear that's responsible.
Commercial clothing is the stuff that sells: the somewhat conservative, easily wearable "classic" men's clothes, as they're often called: the nicely tailored navy blazer, not the oversized, drop-shouldered shirt in a color somewhere between salmon and orange sherbet.
And commercial clothing is the specialty of New York's most recognizable brands, such as Michael Kors, Tommy Hilfiger, and John Varvatos, as well as many of its less-massive lines, including Rag & Bone, Todd Snyder, Billy Reid, and Michael Bastian. Some of the stuff, such as Kors and Reid, was quite nice. But it didn't add anything to the conversation; it was nothing we hadn't seen before.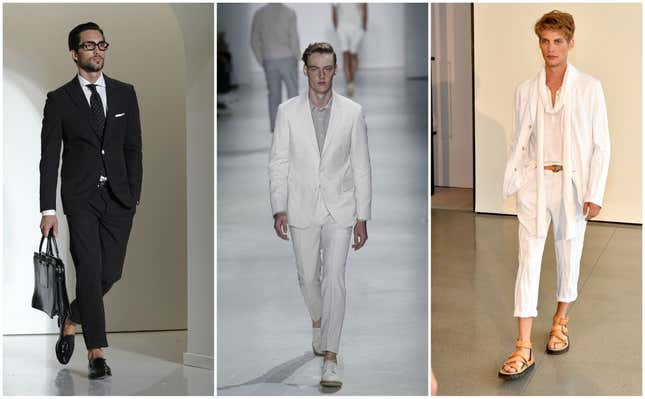 A runway show feels almost superfluous. The runways that generate real buzz and leave a lasting impression are the ones offering clothes that push boundaries, take risks, and offer new ideas in terms of their shapes and construction—the opposite of "classic."
In Europe, the labels doing that include JW Anderson, Rick Owens, Dries Van Noten, Yohji Yamamoto, Lanvin, Haider Ackermann, and lately even Gucci with Alessandro Michele now at the helm. Not all of these labels sell a lot, but they do draw crowds of editors and buyers eager to see the designer's new vision—the exact people New York Fashion Week: Men's is meant to attract.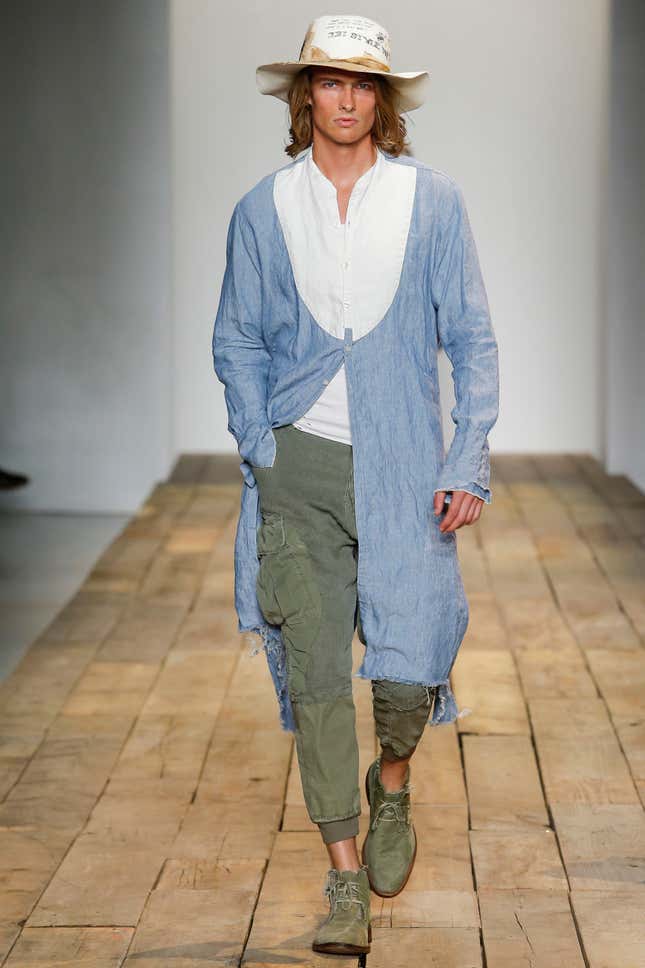 To be fair, New York menswear is probably more robust as an industry than ever. But New York's two biggest names, Michael Kors and Tommy Hilfiger, don't have the same power to intrigue fashion's tastemakers, as they're geared more toward the mass market than a high-fashion audience. Neither has even bothered much with doing full-on runway shows for their men's collections for years now. Rag & Bone, another big New York label, stopped doing runway shows recently and this year opted for stick-figure mannequins over human models.
There are exceptions. The designers who pushed boundaries in New York included Duckie Brown, Greg Lauren, Tim Coppens, and Siki Im. (Full disclosure: I once worked for Siki Im.) They're also smaller labels that would stand to benefit the most from editors and buyers seeing their shows, and therefore the ones most affected if New York can't draw them.
Not surprisingly, not everyone agrees with my take on New York Fashion Week: Men's, of course.
Backstage after his decidedly un-commercial presentation, designer Alexandre Plokhov said he was happy to finally have a week in New York for menswear. "It's long overdue and I hope it continues. I watched the success of London and I think we deserve something like that also," he said, referring to the growth London has seen since launching its own men's week in 2012.
But the London calendar, which has the advantage of starting the season, has established itself as a place to look for innovation. It includes big draws such as Burberry and JW Anderson, and Craig Green is becoming a must-see as well. Those last two at least are definitely not in the commercial camp.
When asked what the difference is between menswear in New York and Europe, Plokhov joked, "Well, we like to sell clothes." But if New York Fashion Week: Men's is going to be a real and lasting hit, it needs to like pushing the envelope, too.