The biggest names in comedy are including more and more women—and they're women who aren't afraid to make a dick joke. Amy Schumer, who stars in Judd Apatow's Trainwreck, released today, is a comedienne with crassness at her core.
Schumer is able to joke about things male comedians would be sent to the slaughter for bringing up, like hoping to be sexually harassed (video) and throwing her own gang bang (video). In April her bawdiness exploded on YouTube in an ode to profound "fudge machines" (video), a music video that has over 5 million views and counting.
And she's not the only one whose rising star shines with scatological humor. On screen and off, comics such as Jenny Slate, Chelsea Peretti, and Melissa McCarthy are all oozing with TMI.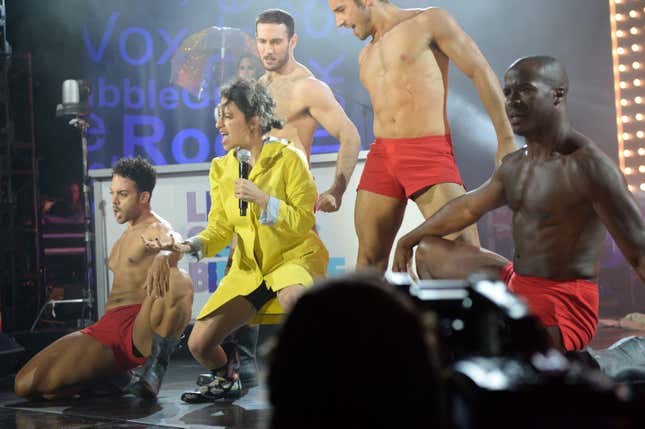 The millennial heir apparents to the comedy world, Broad City's Abbi Jacobson and Ilana Glazer, began the finale of the first season of their show with the two ladies leering into a basketball court full of sweaty men. Close-ups of junk flying around in basketball shorts are accompanied by the two women speculating about the penis sizes of the men that they're quite literally smacking their lips over.
And when the rising queen of crass, Bridget Everett, who the Village Voice has called "the most exciting performer in New York City," appeared on Schumer's show (video), Inside Amy Schumer in 2013, she barely toned down her raucous live show—striding through the crowd belting gleefully about various nipple types, before proceeding to motorboat hapless audience members.
Meanwhile, there's a rising crop of gentleman stand-up comedians who seem to be swinging in the opposite direction. Gentle and non-threatening, they've cultivated personas as sweet, friendly nerds.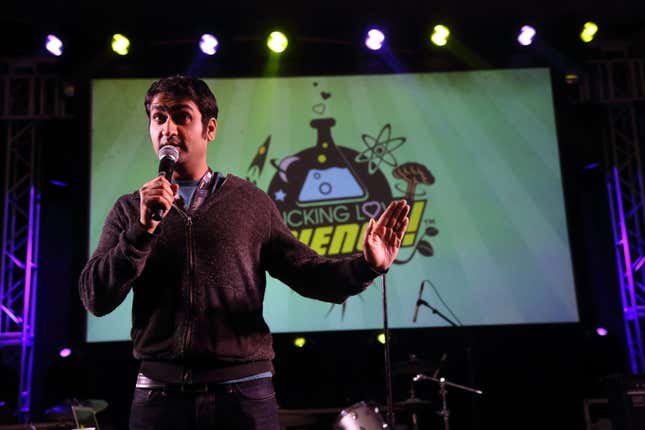 Kumail Nanjiani, who stars on Silicon Valley as a sexually frustrated programmer, is a self-described "beta male." With Jonah Ray, he hosts The Meltdown with Jonah and Kumail, a recorded live show that airs on the cable channel Comedy Central, featuring stars such as Hannibal Buress, John Mulaney, Nick Offerman, Maria Bamford, Jenny Slate, and Michael Ian Black. The duo started their latest episode with a bit in which Ray names sex positions, as Nanjiani lists nemeses from the Ninja Turtles. He later calls this rather middle-school-like exercise "the filthiest thing we've ever done."
Pete Holmes, the host of a late night show that ran on TBS from 2013 to 2014, often jokes that he shouldn't be in comedy, saying, "This universe, the one we're all in currently, is the only one where I'm not a youth pastor." The self-professed "friendly fellow" says he's "the kind of guy who likes to get to the airport a few hours early."
The list goes on: John Mulaney, a former writer on SNL and the star of Fox's recently canceled Mulaney, looks sixteen and calls himself "a tall child" who growing up had "a voice like a little flute." Hannibal Buress, whose new show Why? with Hannibal Buress premiered last week, guest stars on Broad City as Ilana Wexler's dependable dentist and sometimes-companion who is often seen muttering that he wishes they were more committed than just sex friends. One of Keegan-Michael Key and Jordan Peele's biggest viral hits from their show, Key and Peele, is "I Said Bitch (video)," which has over 22 million views and features the comedy duo too scared of their wives to say the word "bitch" at louder than a whisper. And another recent skit (video) shows them giving sensitivity training to men on how menstruation affects their loved ones. And pretty much everything about Aziz Ansari dazzles with non-threatening charm.
To put it bluntly, what these men have in common is: You're not afraid they're going to rape you. That might sound extreme, but this comes on the heels of an era where rape jokes and fat-girl jokes were almost a rite of passage for up-and-coming male comics like Daniel Tosh, and for a generation that grew up on Andrew Dice Clay. Vulgar ladies may sometimes make you cringe—but they don't make you scared.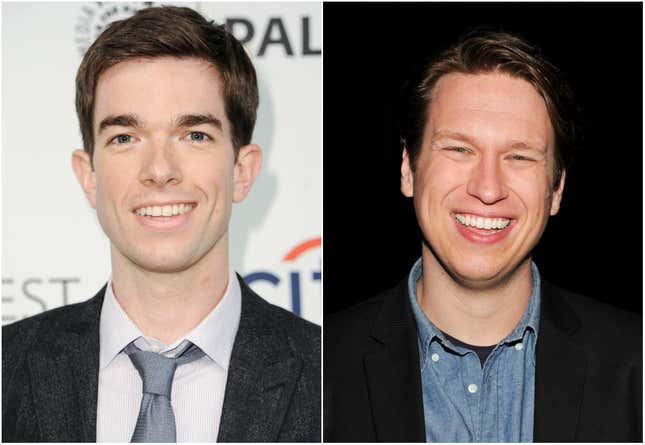 Let's be clear: Women who do and write comedy aren't about to ascend the iron throne any time soon; almost all the top-earning comedians are still male. And there are currently no women hosting the big late night talk shows.
But it's safe to say that the idea that women aren't funny has been long put to rest. Today's comediennes stand on the shoulders of the sassy but slightly more restrained giants who came before them: Tina Fey, Amy Poehler, Julia Louis-Dreyfus, and Kristen Wiig all paved the way (video) for the new class of crass. (And we know Sarah Silverman isn't afraid of a rape joke.) Among male comics, Louis CK's work often plays with the tension between his own inner aggression and his hope of being a good father to his daughters and a productive member of society.
The phenomenon points to an ongoing shift in the demographics of comedy audiences, and of entertainment industry audiences in general. More women than men go to the movies, with a slight increase (PDF) since 2010. Comedy Central's audiences skew male—60% to 40%—but it has increasingly showcased women comics. The audience for Schumer's show is split 50-50 (paywall) and has beat shows with higher ratios of men in the audience, such as The Kroll Show (even among young male viewers).
Comedy would be nothing without transgression, but who is allowed to make these violations is finally shifting. As women comics continue to enter the mainstream, there's a new market for boundary-pushing jokes that can appeal to both genders, and increasingly it's women who can do them well. In the current landscape, women and men alike will laugh long and hard.