The people have spoken.
Since Bank of England governor Mark Carney announced the first-ever open call for banknote-design nominations in its 320-year history last May, the bank has received thousands of ideas for Adam Smith's successor as the new face of the £20 note.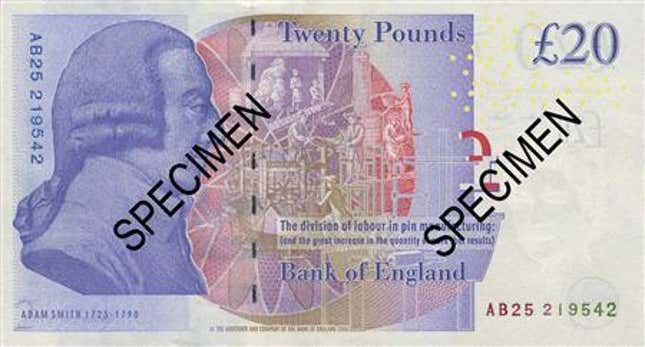 Among the nominees are actor Charlie Chaplin, film director Alfred Hitchcock, landscape painter JMW Turner, children's book author Beatrix Potter, and fashion designers Laura Ashley and Alexander McQueen.
When Carney announced the Bank's crowd-sourced banknote initiative, the call was for suggestions of a historic figure in the visual arts who significantly shaped "British thought, innovation, leadership, values, and society."
Carney challenged the public to think broadly, considering all types of creative people—architects, artists, ceramicists, craftspeople, designers, fashion designers, filmmakers, photographers, printmakers, and sculptors—as long as they are not alive, fictional, or "unduly divisive."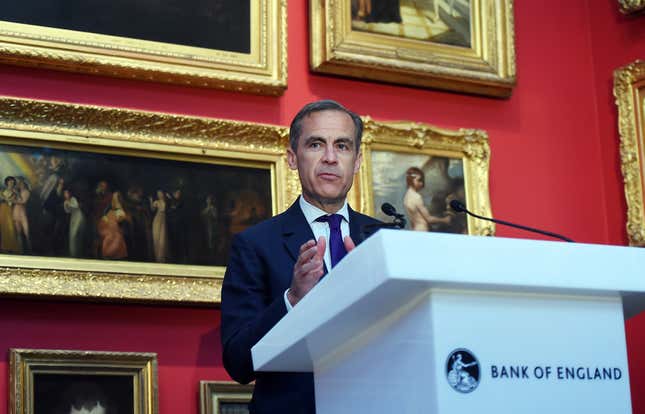 The British took this charge to heart. Within the 60-day period, the bank received 19,000 entries which it whittled down to 436 viable contenders, according to the Guardian. Guiding the Banknote Character Advisory Committee for its final selection are three experts from the visual arts—film director John Akomfrah, design critic Alice Rawsthorn, and art historian Andrew Graham-Dixon. The chosen character for the £20 will be revealed next spring. The rules say that it's also possible that more than one character is selected for the note.
As the Bank transitions from paper to polymer notes next year, Winston Churchill will replace the so-called "the angel of prisons" Elizabeth Fry on the £5. In 2017, Jane Austen will be the new face of the £10, replacing Charles Darwin. The new £20 is expected to be in circulation within 3-5 years.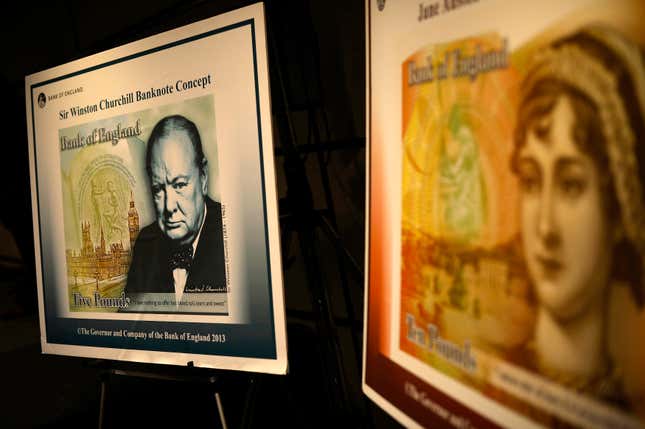 The Bank of England redesigns its banknotes fairly regularly. Since the 1970s, the bank has featured figures from the visual arts on banknotes including Charles Dickens, William Shakespeare, composer Sir Edward Elgar, and architect Sir Christopher Wren.
The bank's nomination materials (pdf) testify to the institution's appreciation for the value of visual arts in cultural life. A video accompanying the call for entries adeptly articulates the scope and purpose of the arts for the general public while offering a rich mood board to spark ideas—which came in droves.