It's exceedingly easy to buy knock-offs of European luxury brands. They're so common people hardly pay them any mind. But their prevalence is actually a major problem, and it's undermining Europe's fashion industry.
Counterfeits cost European brands the value of 9.7% of their total sales every year, or a staggering €26.3 billion ($28.7 billion), according to a new report by Europe's Office for Harmonization in the Internal Market (OHIM). Those lost sales ripple outward, resulting in approximately 363,000 lost jobs across the manufacturing, retail, and wholesale sectors of Europe's fashion industries.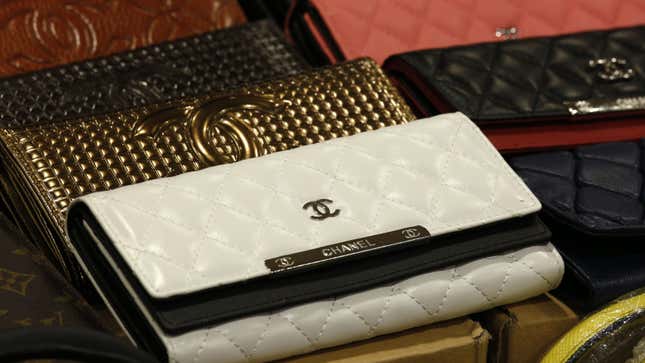 All these losses have indirect effects on the wider economy. "If one sector's sales are reduced because of counterfeiting, then this sector will also buy fewer goods and services from its suppliers, causing sales declines and corresponding employment effects in other sectors," the report notes. Add in those consequences, and OHIM estimates the losses rise to €43.3 billion ($47.2 billion) in sales, about 518,000 jobs, and €8.1 billion ($8.8 billion) in revenue that Europe's governments would otherwise be collecting.
OHIM determined the sales losses by weighing factors such as per capita spending on clothes and footwear in the various countries and its own estimate of how likely consumers are to buy fakes. It based that estimate on variables including income levels, economic inequality, and the percentage of the population that admitted to buying counterfeit items in previous studies.
The figures represent a serious blow to some EU countries, particularly Italy, which suffers the most from counterfeits. The country is just emerging from six years of stagnation and recession, and fashion is important enough to its economy that the government will spend $21.6 million this year in a campaign to boost fashion exports to the US. It not only loses the most in direct sales. It also makes about 70% of the textiles used by its clothing and footwear industry. Factor those in and it's losing about 81,000 total jobs, according to OHIM. France, by comparison, only makes about 20% of its textiles and imports the rest.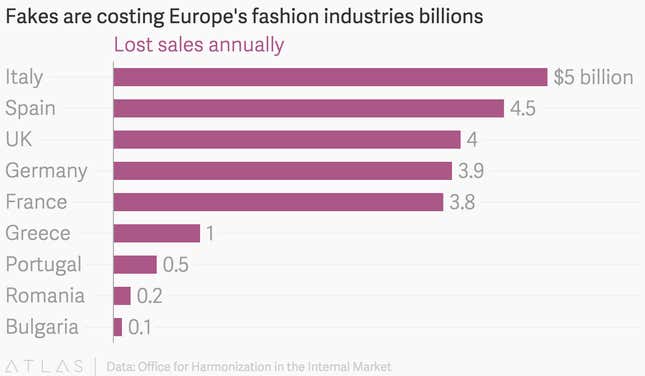 Most of the fakes—two-thirds according to a previous report—come from China, which has the distinction of being the world's largest producer of counterfeit goods. Alibaba.com, its biggest e-commerce site by some measures, is rife with knock-offs. Earlier this year, Kering, the European luxury group that owns brands such as Gucci and Saint Laurent, sued the site, alleging that it "facilitates" and "encourages" the sale of fakes.
The OHIM report says the same Chinese factories making the genuine products are frequently the ones making the knock-offs too. "Very often the products from the Far East were assembled in the same Chinese factories that worked for the legitimate brands during the day," it states. "It is easy to see that in many cases the similarity between the genuine article and the fake can be impressive, as the counterfeiters have access to the same methods and materials that are used to make the original articles."
Chinese criminal organizations are also leading to more counterfeiting being done within Europe as well. A separate report OHIM produced with Europol earlier this year detailed how Chinese counterfeit businesses have popped up in parts of Italy and Spain.
It's a global issue with multi-billion-dollar consequences.