"The engine which has carried us halfway across a continent drones on and on in its continuing oblivion to everything but its own internal forces."—Zen and the Art of Motorcycle Maintenance, Robert M. Pirsig
The backdrop to a book about fathers and sons, values and self-reflection is the American West. This silent character sprawls against the pages of so many great works of American literature, from John Steinbeck's The Grapes of Wrath to Jack Kerouac's On the Road. Now you can explore 12 memorable road trips across the US, obsessively documented and mapped by Richard Kreitner and Steve Melendez for Atlas Obscura.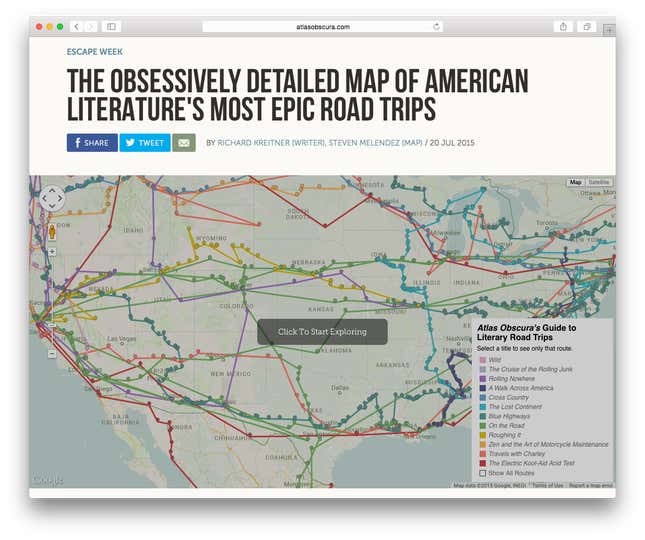 The interactive graphic shows every place-name reference found in 12 famous road-trip books, and captures quotes by the intrepid travelers, real and fictional, who traversed the US by car, motorcycle, stagecoach, and even on foot. You can follow William Least Heat-Moon as he eats smoked cisco, sweat with Ken Kesey in Pensacola, Florida, watch your shoes disintegrate with Cheryl Strayed, and marvel at the "the dark and jagged ramparts of Arizona [as they] stood up against the sky" with Steinbeck and his poodle, Charley.
The insanely detailed nature of the map says something about the personality of Kreitner, who conducted the research by manually collecting more than 1,500 place names in the books and using GPS to find their coordinates. He tells Quartz that even if he had known how to digitally cross-reference the books' texts with a list of all the places in the US, he wouldn't have. "I'm a paper freak," he says. "That wouldn't have interested me."
Strayed is the only female writer on the list, and Least Heat-Moon the only not-totally-white male. Kreitner admits that the American road trip "may be a white guy thing." But, he says, the proliferation of famous road-trip books by white men has more to do with the problem of manifest destiny, and "who has money and leisure time to leave their work behind." But whiteness is not something inherent to the road trip, Kreitner believes. He says, "I think everyone could use a little wind in their hair."