New York magazine's website was taken down, apparently by hackers trying to silence it, just hours after publishing the accounts of 35 women who say they were raped by Bill Cosby.
The site came back up about 12 hours later.
A group of hackers going by the name VikingDom2016 took credit for the attack, though it was not possible to confirm if they were responsible. Reached on Twitter, a representative for the group offered various motivations for taking down the magazine's website.
"Want to know a top reason?" the person, who goes by the name ThreatKing, said. "We know one of them females in the cover."
The person wouldn't elaborate on that comment and then cast the group's actions as an attack on the magazine's home city: "New york, A place where the police don't care and people run wild with fake handguns trying to 'troll' and record people."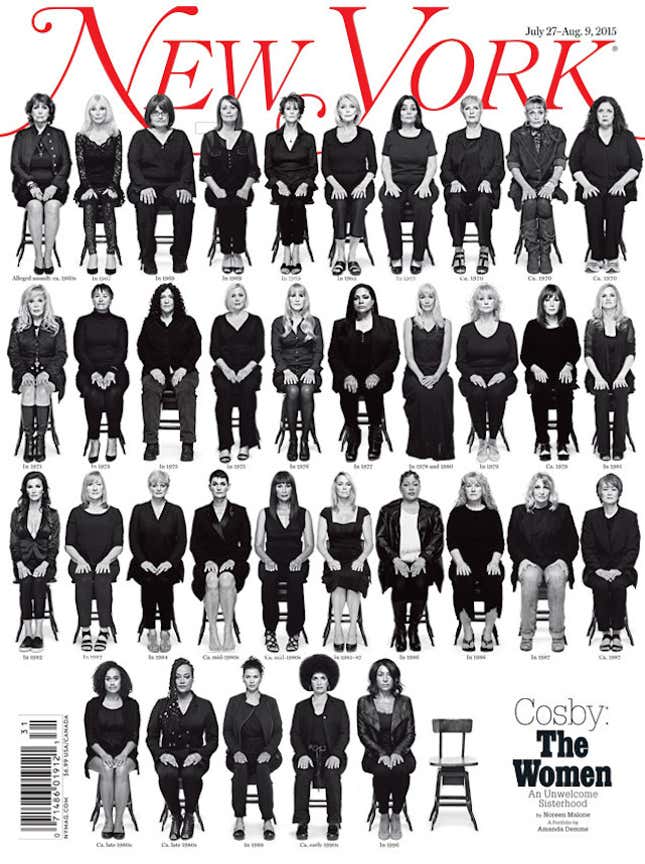 "Ny mag, Is just the start," the person added.
The hackers' bluster could mean anything. The attack seemed motivated, if nothing else, to generate maximum attention. "Lol, we ruined New York big night," the group wrote on Twitter.
At the magazine, staffers scrambled to get their website back online and determine the cause. Employees were also unable to access their corporate email accounts. One source said it was understood that nymag.com had fallen victim to hackers, though they were still trying to determine the type of attack.
The person on Twitter said it was a denial-of-service attack, in which hackers flood a server with overwhelming requests to take it down. Officially, the magazine said it was "experiencing technical difficulties" and didn't have any more information.
The exposé on Cosby, along with its powerful cover image, immediately drew an enormous audience to the website when it was published on Sunday, July 27, at 9pm in New York. The magazine spent six months collecting the stories of women who have accused the actor of sexual assault. Cosby denies the accusations, but the overwhelming number of women who say they were raped by him has eroded his public stature. Thirty-five of the women sat for portraits on the magazine's cover.
New York's website went down sometime early in the morning on Monday, July 28. While it worked to get its site back up, the magazine republished all of the women's accounts on Tumblr. New York also posted videos of the women on Instagram.
It was difficult to determine the validity of VikingDom2016's claims of responsibility for the attack. Last year, the same group took credit for an attack on Maine, in which the state's government websites went down for a few hours.
Asked to provide proof that the VikingDom2016 was behind the attack on New York magazine, its representative said, "What is proof though? I just send you a picture of packets sending? That's not really proof.
"I am not showing you my tools."