The Shanghai Stock Exchange Composite index fell 8.5% in Monday trading, the worst daily drop since Feb. 27, 2007.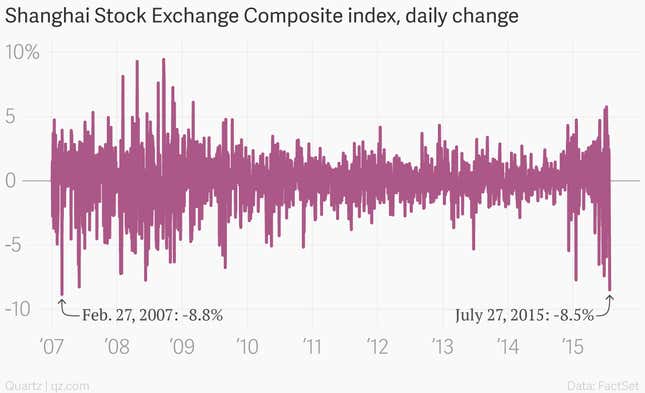 The current volatility underscores the running battle between investors and the government, which has tried to shore up markets with a range of measures. Those moves had been successful in recent weeks before Monday's crash.
Already 2015 has seen some of the worst dips in recent history, and it may soon log more violent one-day swings than were seen in 2008.
To be sure, the SSE was far more volatile back in the 1990s, when the index was in its infancy and the Chinese stock market was much smaller. It's still erratic compared to other indices, but it's been relatively placid by Chinese standards for the past 15 years, with the global financial crisis excepted. (Unlike the current situation, the 2007 drop was sparked by fears that the Chinese government was planning to step in and cool markets down.)