Chinese companies' overseas shopping sprees have been well documented in recent years, after Beijing encouraged its own inefficient, bloated state-owned enterprises to "go out," and acquire knowledge and expertise by gobbling up foreign enterprises.
But Japanese companies, not Chinese, have quietly been doing more overseas deals in the past decade. The news last week that Japan's Nikkei paid $1.3 billion for the Financial Times was just the latest example of this trend. Japanese companies are embracing foreign deals for growth, as a way to hedge against an aging population and a stagnant economy at home.
According to Dealogic data, between 2005 and 2015 year-to-date, companies in Japan and China spent $590.3 billion and $568 billion, respectively, either merging with or acquiring international companies. These figures include Hong Kong companies in the China category—if they were stripped out, China's overseas acquisitions would fall even farther short of Japan's, thanks to huge deals like Hutchison Whampoa's $15.4 billion deal for O2.
Looking at the same data cumulatively shows the pace of investment from both countries is well matched, but Japan has pulled slightly ahead every year since 2006.
Below are two maps pointing to the whereabouts of the 10 top countries for China and Japan's M&A activity, and they show some distinct differences in the countries' outbound investment attack. Japanese companies, for instance, spent $258.1 billion merging with or acquiring US companies in the period, 43.7% of all such expenditure over the 10-plus years: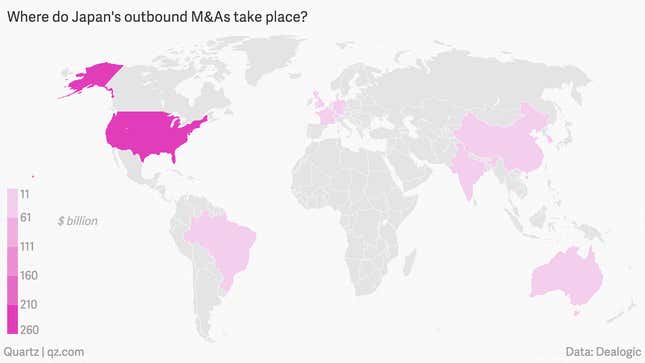 Whereas the biggest target country for Chinese and Hong Kong companies was the UK. Britain received $82.9 billion in the period, or 14.6% of China's total outbound investment: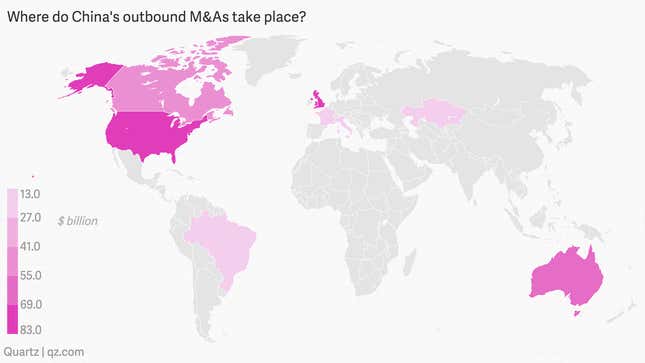 It is worth mentioning that although no African countries appear in the top 10 destinations for merger and acquisition deals, there is plenty of extra cash flowing from China into the continent. Ethiopia has received $17 billion in financing in recent years from China, and China's involvement in infrastructure investment across Africa has been well-documented.
Given the different challenges both China and Japan face as nations, companies from both countries have somewhat different goals when they do overseas deals.
China, for instance, is set on building a new global infrastructure that puts Chinese companies at the center of the world. The country also is concerned with securing enough natural resources to sustain its impressive economic growth and maintain manufacturing jobs. Japanese companies are positioning to cope with a rapidly aging society and smaller workforce, albeit one that is already rich enough to represent a strong consumer marketplace. (Aging population will be an issue for China down the road, though).
Chinese companies, therefore, are more likely to target heavy industry when they go overseas deals:
While Japanese companies have focused on the healthcare and consumer sectors:
So far 2015 is shaping up to be a bumper year for overseas acquisitions. By July 28 this year, companies in China (including Hong Kong) and Japan had already spent over $60 billion each—that's more than was spent in many full years in the 2005-2014 period.