Amazon really wants to deliver to Americans via drones. At a NASA conference in Silicon Valley today (July 28), the retailer outlined its vision for how drones could be incorporated into the national airspace.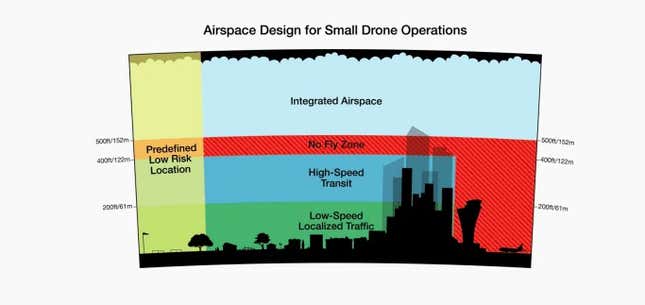 Amazon released two papers—uploaded to the web by The Guardian—on its ideas for safely incorporating drones of different shapes, sizes, and autonomy into the airspace. The US Federal Aviation Administration (FAA), which is currently working on finalizing its regulations for flying drones, has previously said that drones will have to stay below an elevation of 400 feet. Amazon's plan sticks to that guideline—along with the plan that NASA is helping the FAA develop—suggesting there be a 100-foot gap between drones and the airspace that planes and helicopters operate within. It also stipulates, as the FAA has before, that drones don't fly anywhere near airports.
The only real addition that Amazon's plan has introduced is the idea of dividing the airspace below 400 feet into high-speed and low-speed lanes. The space between 200 and 400 feet would serve like a highway for long-distance drone traffic, and as drones approached their destination, they would drop and slow down into the low-speed local traffic airspace, below 200 feet. The low-speed area would also be for personal drones being used to film things, or race against other drones.
Amazon wasn't immediately available to comment on how close it is to developing drones that could fly and deliver packages on their own, but it has previously said that it's working to the same timeline as the FAA. So if the FAA adopts Amazon's suggestions, we may see the start of a drone superhighway above our heads in the next year. Hopefully the technology that Amazon is working on is better at detecting and avoiding objects, specifically human-shaped objects, than the human-controlled drones currently on the market.