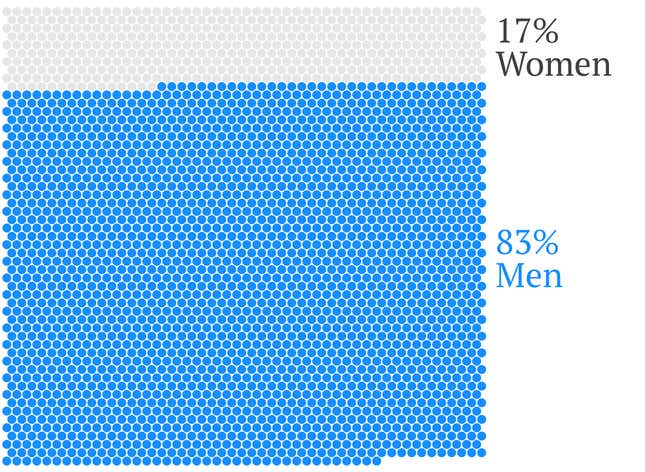 The World Economic Forum (WEF) in Davos has brought together more than 2,600 invitees from around the world to discuss business, politics, economics, justice, and policy. Yahoo CEO Marissa Meyer and PepsiCo CEO Indra Nooyi are in attendence. They are joined by fewer than 500 other women.
A spokesman for the forum confirmed that only 17% of the participants this year are women. Quartz corroborated this number using a preliminary participant list. (Our earlier analysis of the list, including a searchable version, is here.)
The male bias exists about as much in the delegations of industrialized countries as of developing ones. Only 21% of participants domiciled in the United States are women. Women traveling from India represent 17% of that nation's attendees, according to our analysis.
Comparing the conference's gender bias to that of the world population–49.7% women–means that one is 66% less likely to encounter a female participant at Davos than almost anywhere else in the world. 
WEF says the disparity is a reflection of the scarcity of women in the highest level of global leadership—the group that is invited to the conference—not a gender-based bias. The organization has a "Women Leaders and Gender Parity Programme" charged with "promoting women's leadership and gender parity across the globe."
Note: WEF doesn't provide a participant list with genders indicated. To arrive at our calculations we compared the first names of attendees to the lists of names and genders published by the US Census Bureau and Social Security Administration. For names not found on the lists we compared internet searches for a collection of phrases that imply gender (using this code library on Github, in case that interests you.)