When the Chinese government blocked Line in July 2015, it seemed the Japanese chat app had lost access to Asia's biggest market. As with Twitter and Facebook, the state's aversion to foreign social networks had turned it into yet another casualty of the so-called Great Firewall.
But Line has nevertheless stayed active in China, only real-life form, not virtual. For example, over the weekend shoppers in a SOHO department store in Shanghai  queued up to drink Line-branded lattes and purchase Line swag at a pop-up store and cafe—despite how none of them can actually use its flagship chat app. Pics from Weibo (registration required):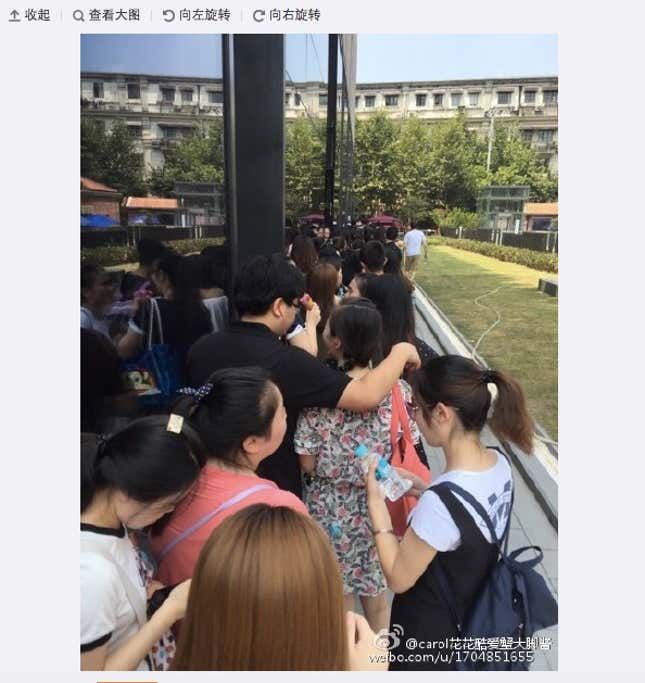 As Chinese tech blog Pingwest reports, Line's cafe was formed with help from (link in Chinese) China's SOHO department store chain, and timed to coincide with an internet industry trade show. According to the writer, most of the people at the store were only vaguely familiar with Line. Despite crowds reaching the hundreds at one point, most hadn't heard of Line, or its mascots Cony and Brown.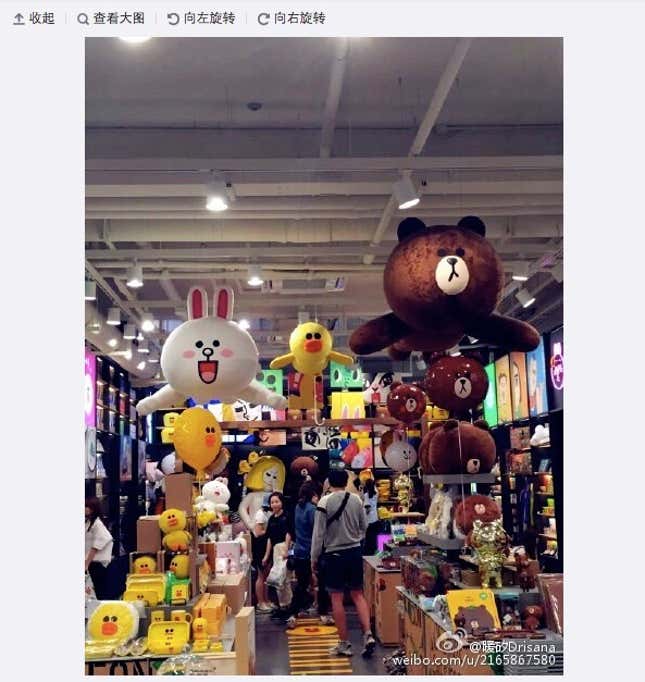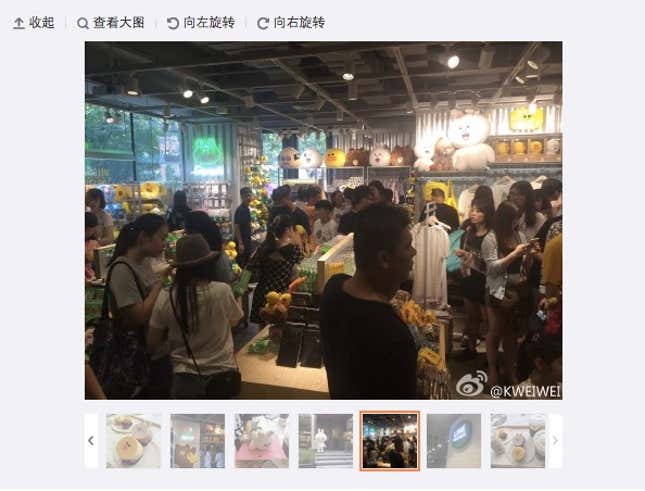 Line also has a store on Alibaba's Tmall where it sells Line-branded swag. While the Sina Weibo account for its messaging app has been deleted, an account for its Chinese merchandise business has been active since May.
Headquartered in Tokyo but part of South Korea's Naver, Line relied on aggressive ad campaigns to become the WhatsApp of Taiwan, Thailand, and Japan. It has 181 million monthly active users worldwide, most of whom are in Asia, and last year brought in $656 million in revenue.
Given that its flagship chat app is banned in China, hawking cupcakes and coffee mugs might seem futile for Line. But chat is a merely front for Line's core business of selling game-related virtual goods, which constituted 60% of its revenues in 2013. In Taiwan and Japan, Line's mascots have taken on lives of their own, showing up in TV shows and a wide range of merchandise. In some ways, the firm resembles Japan's SanRio, which built itself into a $2.5 billion firm on the back of Hello Kitty.
Since company earns most of its revenues through games it owns or publishes, licensing its titles to Chinese distributors is one way it can continue to access the market. It's also possible that licensing its characters out to apparel or media brands will prove lucrative in the long term, provided its characters catch on in China like they have in Taiwan and Thailand. But in order for that to happen, the company has to prove Chinese consumers like its characters in the first place. If it can't demonstrate that with a popular chat app, then lattes and tote-bags might be the next best thing.