Shira Banki, a Jerusalem high school student who attended Friday's gay pride parade to show solidarity for her LGBT friends, died on Sunday (Aug. 2) from the stabbing wounds she sustained.
Her family said in a statement:
Our magical Shira was murdered because she was a happy 16-year-old – full of life and love – who came to express her support for her friends' rights to live as they choose. For no good reason and because of evil, stupidity and negligence, the life of our beautiful flower was cut short. Bad things happen to good people, and a very bad thing happened to our amazing girl. The family expresses hope for a less hatred and more tolerance.
The Jerusalem gay rights parade was thrown into chaos when a man stabbed six marchers, leaving two of them, including Banki, in serious condition.
Police detained a ultra-Orthodox suspect named Yishai Shlissel—the same man who carried out a similar attack on the same parade 10 years ago. He was sentenced to 12 years in prison and was released just three weeks ago. In a screengrab from Israeli television, he is pictured today on the left and in 2005 on the right: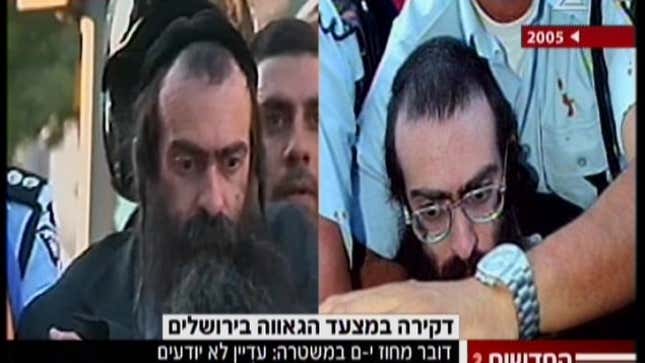 Ultra-Orthodox Jewish groups had turned out to protest the parade. A representative of the far-right organization Lehava compared homosexuality to "robbing a bank" in an interview with The Jerusalem Post. 
"The threat posed to the Jewish family doesn't just come from assimilation but also from undermining the sanctity of marriage. It cannot be that something that is declared in the Torah as an abomination will become a source of pride, and there is certainly no place for this in the heart of Jerusalem, the holy city," Lehava CEO Benzi Gopstein said.
This is an updated version of a post that previously ran on Quartz.