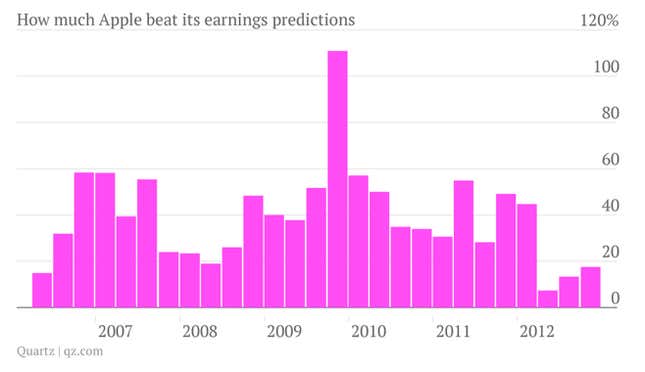 It's not that Apple isn't making money. It made $13.1 billion last quarter. By some counts, that's the largest non-oil-company quarterly profit ever.
And it's not that Apple can't generate huge revenue growth. As its executives told shareholders in the earnings release, it managed to increase its truly staggering $54.5 billion in sales by 18%.
No, a key reason Apple is a broken stock is because of something Apple didn't say. In a stark departure, Apple declined to offer an earnings-per-share target for the current quarter. And that is a significant shift in the earnings expectations game Apple had mastered in recent years.
The game has worked like this. Apple lays out a ridiculous low-ball estimate of its diluted earnings per share for the next quarter. Then it delivers an actual result that crushes those expectations. Stock soars. Rinse. Repeat in three months.
But as this chart above shows, the game has changed.
For the period between July 2006 and the quarter that ended in December 2011,  Apple beat its own official earnings-per-share guidance by around 31% each quarter. But in 2012, Apple's powers to deliver dazzling displays of profitability weakened. For the four quarters of 2012, Apple only beat its own guidance by about 15%, on average.
And now, Apple has suspended its earnings-per-share forecasts. On Apple's post-earnings conference call with analysts, longtime CFO Peter Oppenheimer even outlined the tweaks to its guidance, with a slightly less-than-bullish tone:
In recent years, our guidance reflected a conservative point estimate of results every quarter that we had reasonable confidence in achieving … Going forward, we plan to provide a range of guidance that reflects our belief of what we are likely to achieve.
Analysts understandably were grappling to understand what the change to guidance meant. Toni M. Sacconaghi, an analyst with Sanford C. Bernstein, tried to pin Oppenheimer down:
Before you, I think, on average eclipsed your guidance on EPS by 35%. Was the guidance before something that you felt reasonably confident in achieving? Or was there an implicit buffer in there? Because I'm trying to reconcile the fact that you said you thought it was reasonable before but your historical precedent was you eclipsed it enormously on an ongoing basis, and this time you're saying there's a high likelihood of falling within the range, and I want to understand the distinction.
Oppenheimer hewed close to the prepared language and stayed on message:
I'll go through it again. In the past, we gave you a single point estimate of guidance that was conservative, that we had as reasonable confidence as you can have that we would achieve. We're now providing you a range of guidance that we expect to, as best we can, report within.
This is clearly an important signal to the markets that the cat-and-mouse expectations game which accompanied Apple's remarkable share price rise is, apparently, over. And that requires a deep rethink on reasons for owning the stock, forcing investors to recalibrate expectations for growth, and to learn to focus on other metrics such as growing margins—which are also currently under pressure—and the likely hood of more of Apple's $137 billion pile of cash finding its way to shareholders.
In short, it's time to start thinking about Apple like a value stock.