The latest bout of Teslamania–the carmaker's stock is up more than 9% in 2015—is due to CEO Elon Musk offering another $642 million in company shares. No matter that he will be even later with his electric SUV crossover, and will sell fewer cars this year than he promised.
Everyone: Relax. In fact, take a breather for about two years, because nothing that happens publicly with Tesla will matter—until, that is, Musk delivers his Model 3, a pure electric sedan for the masses that he promises to bring to market in 2017.
Pro tip: Knowing Musk, it will be late, so you may actually have to chill for up to four years.
The Model 3 is Musk's attempt to transform Tesla from an ultra-high-end, niche carmaker into one serving the broad luxury market. It's the core of Musk's boast that he'll be selling 500,000 cars in 2020, ten times Tesla's current sales volume, and 1 million by 2025. This is make or break for the carmaker.
If he fails, look for the company's currently inflated share price to implode for good, and Tesla to end up as just another of those nice stories that we tell our grandchildren of companies bygone.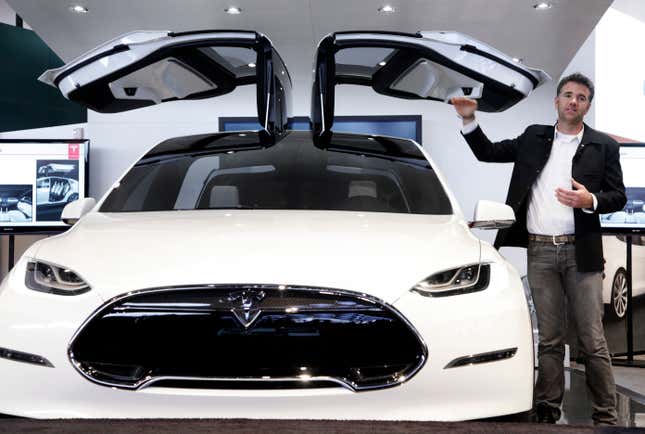 As of now, Musk expects to sell about 11,000 of his Model S sedans in the fourth quarter of this year.
Considerable attention is focused on his forthcoming Model X (the crossover SUV, pictured here), which will add a few thousand to sales numbers by the end of the year.
Investor concerns about the X's delivery date—it's two years late to the market—has to do with when precisely Musk expects Tesla to be profitable. Will it be December 2015? January or February 2016?
But such questions betray a shocking disregard of what the Tesla game is all about—not a quarterly profit, but whether, against extraordinarily tall odds, Musk can successfully entrench his carmaking company, and make a truly disruptive splash.
What precisely must the Model 3 do, apart from merely existing? Musk has to deliver it at a true price in the mid-$30,000s (before government subsidies), and at a real-life driving range of 200 miles or more on a charge (not only in perfect conditions).
Oh, and the Model 3 needs to meet all of the other specs that Tesla fans have come to expect—it has to be ultra-stylish and cool, beautifully engineered inside and out, and include an embarrassment of techno-gadgets, including autonomous functionality.
If it does all that, Musk may meet his ambitious sales targets.
But his rivals are taking no chances—they think he is going to make it. That's why so many of them, including GM, Audi, BMW and Mercedes, are planning their own 200-mile pure electric cars in the 2018 time frame. As we've previously discussed, the launch of those models will be a tipping point, when all-electric vehicles can go mainstream.
Until then,  Teslamaniacs need to cool out.