Giant fighting robots are taking another small step toward becoming a sport of the future—but they need a helping hand from some humans.
MegaBots, the company behind the American robot that will duel against a Japanese robot next year, has formed a "Team USA" research and development team, and a Kickstarter campaign to help pay for it. Over the next month, MegaBots is looking for at least $500,000 to upgrade its Mark II, making it faster, stronger, and more nimble as it prepares to fight in robotic hand-to-hand combat with Japan's Kuratas robot.
The team have a few stretch goals: If they hit $750,000, they're promising bigger and better weapons, including cannons, flame throwers, and "pneumatically driven fists." If they hit $1 million, they'll be able to work with IHMC Robotics, the runner-up team from the recent DARPA Robotics Challenge, to design self-stabilizing balancing for the Mark II. As the team says on Kickstarter: "This system could easily make the difference between falling over after the first punch, and staying upright through the entire match."
Surprisingly, the team saved potentially one of the most important stretch targets for $1.25 million: their own safety. If it hits this goal, the team will work with NASA to build out a "life safety system" not unlike the cockpit of a spaceship. When Quartz first spoke with founders Matt Oehrlein and Gui Cavalcanti, they said they were still working out how to fight in a way that they "won't die." It still seems like a relatively low priority.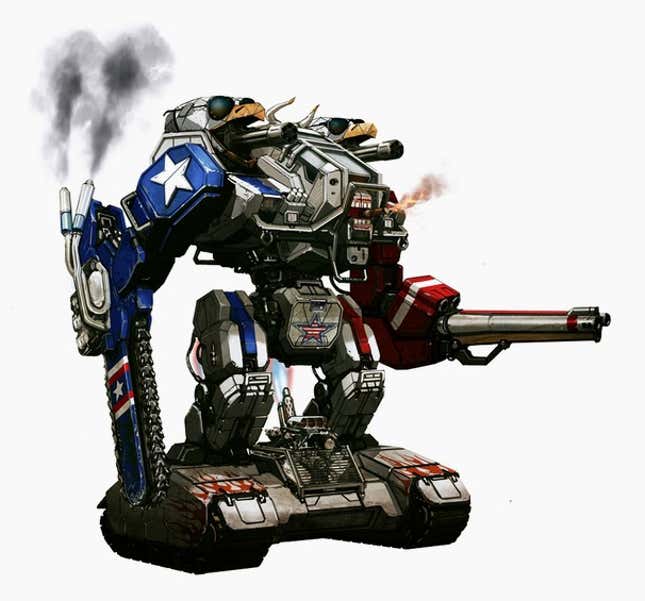 If the Kickstarter campaign reaches $1.5 million, the team says it will be able to work with FonCo, a creative design company that has worked on Hollywood blockbusters like Star Wars, the Matrix, Guardians of the Galaxy, and Terminator to give the Mark II a terrifyingly American paint job.
MegaBots' Kickstarter rewards range from the standard to the awesome. Small donations will get you thanks and trinkets, but things start getting interesting above $1,000. At that price, you can ride in the Mark II through an obstacle course. At $2,500, you'll be able to fire the robot's weapons at mocked-up versions of the Kuratas, and for $5,000, you can use an old car as a punching bag.
Quartz visited the MegaBots team in July, and got to ride in the Mark II, fulfilling many nerdy childhood dreams:
MegaBots has teamed up with an impressive cast of scientists and entertainers to launch the Kickstarter campaign. Some of the "Team USA" advisors include Grant Imahara, a host of the TV show "Mythbusters"; the co-founders of BattleBots, Greg Munson and Trey Roski—whose success MegaBots would like to emulate; and Peter Diamandis, the founder of the X-Prize, the nonprofit organization that runs high-profile competitions like the first privately-funded spaceship (and, for some reason, creating a real Jurassic Park).
The team previously launched an unsuccessful Kickstarter campaign to build the original MegaBot back in 2014, raising only about $65,000 of a requested $1.8 million. The goals this time round are a bit more modest, and perhaps the public will be a little more willing to support "Team USA" now that there's a working prototype sitting in a warehouse in Oakland, California.