The bombing in Bangkok yesterday (Aug. 17), which killed 22 people and injured more than 100, deliberately targeted foreign tourists in a bid to hurt the Thai economy, according to Thai authorities. Notably, the attack took place in the central Ratchaprasong luxury retail district, home to lavish shopping malls that consume as much electricity as entire Thai provinces.
Thailand is Southeast Asia's largest market for luxury goods. In 2014 it saw $2.5 billion in luxury sales, higher than Malaysia and Indonesia. Luxury spending is also a significant part of the country's huge tourism industry, which accounts for as much as 20% of Thailand's GDP. But the luxury sector in Thailand has struggled in the past several years, hampered by political unrest and a flagging economy. The devastation wrought by yesterday's events threatens to make things even worse.
Globally, tourists account for 40% of personal luxury sales, and for Thailand's luxury sector, visitors from mainland China are particularly important. They're the world's biggest spenders on luxury, who make most of their purchases abroad—and they're the ones that Thailand could lose as a result of the violence.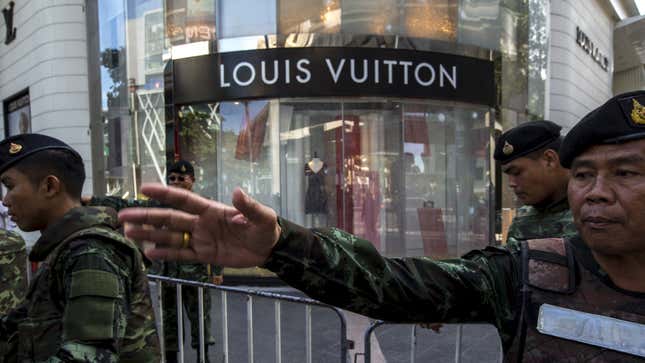 So far the impact hasn't been too pronounced. Hong Kong issued an alert to travelers headed to Thailand, and while one Hong Kong travel agency reported that it had cancelled all trips to Bangkok, others said travelers hadn't altered their plans.
Any downturn could be brief if no additional violence occurs. "We think if there are no further incidents the impact on tourism will be short-term," Ittirit Kinglek, president of the Tourism Council of Thailand, told Reuters.
No group has yet claimed responsibility for the bombing, but there are signs that it was not just a one-off—a second explosive was detonated near a major ferry pier on Bangkok's Chao Phraya river today (Aug. 18), though no one was injured.
Luxury stores are undoubtedly on edge. Many of the country's luxury retailers are concentrated in Bangkok's high-end malls, including those in Ratchaprasong. To make matters worse, in the past the area has been a prime destinations for some of the massive political protests that have roiled the country.
In 2010, for instance, four large malls near Ratchaprasong had to close down as a result of protests lasting months on end, and the massive Central World mall was set on fire. Protests erupted again just last year.
That political upheaval has had a chilling effect on spending, even before this week's bombing.
"Despite the protests being peaceful, consumers have been wary about shopping in the city's key luxury destinations as groups of protesters temporarily blocked many central areas of Bangkok, as well as leading luxury department stores and shopping malls," Fflur Roberts, Euromonitor's head of luxury goods, wrote in a piece for Luxury Society, looking at whether Thailand's luxury market was in the midst of a comeback. "As a result, many retailers suffered as sales dropped during the first half of 2014."
There was also "a notable drop in luxury spending" by tourists.
This year, the economy has been on the rebound, and in June, tourism was up 53% over last year. These were good signs. Yesterday's bombing, however, has tempered that optimism, and everyone is waiting to see what happens next.