In order to win over consumers and authorities, Uber has embarked on a publicity campaign in China to prove it's as Chinese as chopsticks. But now that a competitor is using a tried-and-true Chinese tactic against it, it's crying foul play.
As Bloomberg reported earlier today, the Chinese media giant Tencent has imposed an apparent block on all things Uber on WeChat, the Chinese social network with over 600 million users. The move is almost certainly designed to protect and promote Didi Kuaidi—the Uber rival that Tencent has invested in, which is present in over 300 Chinese cities. Didi Kuaidi also recently scored funding from China's sovereign wealth fund.
Searching for Uber in Chinese yields no sign of Uber itself, but rather a number of imitation Uber accounts (it's not uncommon for imitation brand accounts to be listed right next to real brand accounts on WeChat). The second result, for example, takes one to a WeChat account run by a company that sells water bottles and other knick-knacks, aping Uber's logo in an apparent bid for visibility. Searching for Uber in English, meanwhile, yields no results whatsoever.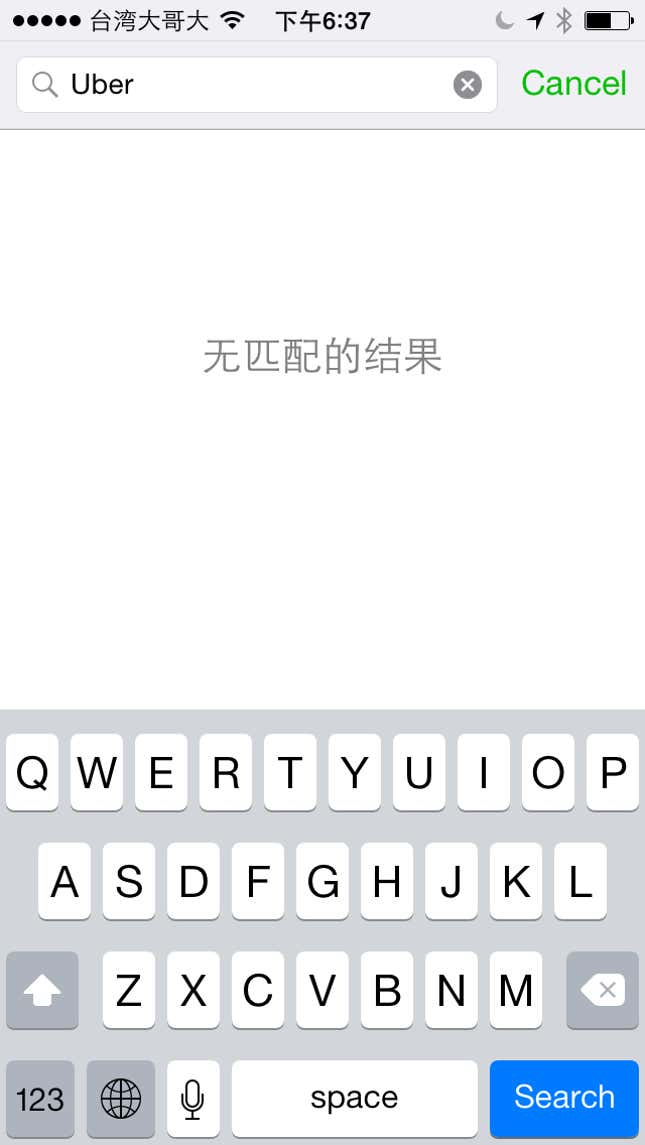 The block also prevents Uber from sending out viral promotions for ride discounts. Scanning QR codes or activating links to Uber yields nothing but an error message on WeChat. Such promotions are vital for any internet company these days, especially Uber, which will frequently offer vouchers on Twitter and Facebook in order to lure first-time customers. But China has no Twitter or Facebook, and WeChat instead serves as the country's go-to app for all things social.
Last month Tencent responded to Uber's complaints and said the issues were part of a technical glitch (link in Chinese). If that's the case, the glitch certainly has not been fixed. Quartz has reached out to Tencent and Uber for comment but has not heard back. We will update this post with any response.
The stakes are high for China's ride-hailing market. Uber is in the midst of raising a $1.5 billion funding round just for China, while Didi Kuaidi recently closed a $2 billion round. No reliable data exists on who leads China's market for peer-to-peer ridesharing, but a report from RedTech Advisors (login required) suggests that Uber generates up to 30% of the sector's gross merchandise volume, despite being in just over a dozen cities.
Uber's top executives have been vocal about their displeasure about Tencent's alleged blocks. CEO Travis Kalanick lamented it in his "leaked" letter to investors, before vice president Emil Michaels "spoke out for the first time" about the practice with Bloomberg.
Uber's predicament is not unusual. On China's internet, getting jabbed by competitor is so common it's practically a rite of passage. Alibaba, for example, does not let users navigate directly from its e-commerce marketplaces over to sellers' WeChat accounts. On the flipside, earlier this year, Tencent blocked an Alibaba promotional scheme that let users send money to one another through WeChat.
Moreover, internet companies outside of China have played just as dirty with one another. When Twitter banned the live-broadcast app Meerkat from accessing its social graph, use shot up for Periscope, Twitter's in-house competitor. And Uber itself is also no stranger to morally questionable business tactics—the company reportedly hired staff to hail Lyft rides for the express purpose of recruiting drivers, and was even accused of sending out fake requests on Lyft in order to clog the system and frustrate drivers. As local as Uber tries to be, playing dirty knows no borders.