In an internal letter to investors, Uber CEO Travis Kalanick said today that Uber is logging in 1 million daily rides in China. That's as many daily rides as the company claimed to be hitting in all of its markets, worldwide, in December 2014.
Encouraged its prospects in the country, Kalanick revealed the company intends to raise $1 billion specifically for its China operations.
The company also claims that trip volume in Chinese cities is growing at a much faster rate than New York City. Chengdu is logging 479 times as many trips as New York City was logging at the nine-month mark, and Hangzhou is logging 422 times as many trips. (Chengdu's population is 4.3 million and Hangzhou's 2.5 million, so this isn't a case of these cities being larger).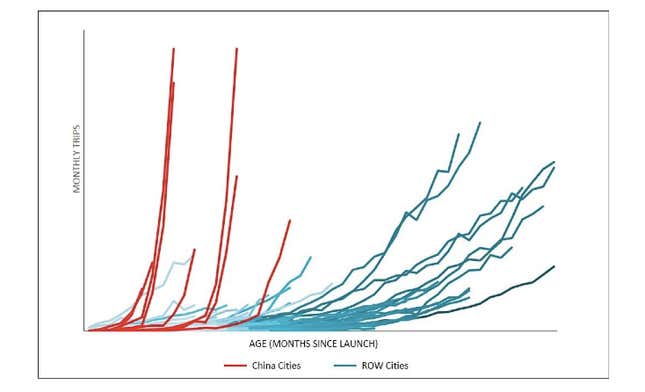 Uber is only in 11 cities in China, and this fast growth is likely due in part to a heavily promoted service called The People's Uber, in which Uber takes no commission from completed rides.
Using generous subsidies that can at times be more lucrative than ride revenue itself, the company has also lured thousands of drivers on to its pay-to-ride app. Kalanick said the company is creating 100,000 "new full time equivalent jobs per month" across China.
Uber has faced an uphill battle in China because of the scale of its main competitor, Didi Kuaidi. Backed by domestic giants Alibaba and Tencent, Didi Kuaidi's app is now available in over 300 cities across China. The company earned its ubiquity by piggybacking off of licensed taxis, but Uber went straight for the peer-to-peer model. Kalanick claims Uber is now winning.
"Despite this competitor's supposed advantage of a massive taxi user base, we are quickly becoming the share leader in P2P," Kalanick wrote. "We believe we have close to 50% share in the non-taxi market and are, in fact, substantially larger in many of our key cities."
Kalanick also accused competitors of paying taxi drivers to stage fake protests against Uber, and blocking its access to certain marketing channels on WeChat, which is owned by Tencent. Rival Chinese internet companies frequently block links to each others services, so that isn't surprising.
Beyond pressure from competitors, Uber is facing crackdowns from local authorities and driver fraud in China. These concerns could potentially be alleviated if Uber finds the right Chinese partners. Search giant Baidu made a strategic investment in Uber in December of 2014, a deal that some estimated to be worth $600 million.
Interestingly, Kalanick repeatedly refers to Uber in China as UberChina in the letter, and closes the note announcing an upcoming fundraising campaign for "UberChina" that will begin in 10 days. Much like how there are two internets, one global and one Chinese, it is possible we'll soon see two Ubers.