Commodities and stocks across the world have been dropping sharply over the last day, as investors questioned the health of the global economy—especially China.
The pain has spread to less-trafficked corners of finance, too.
The price of bitcoin fell by as much as 8% today, hitting an intraday low under $209. (At last glance, the crypto currency was down by roughly 7%.)
The decline comes amid a broad-based market rout that many trace back to worries over China. The Shanghai composite index was down by more than 8% Monday. Some analysts have noted increasingly close linkages between bitcoin and China. Goldman Sachs analysts mentioned back in March that 80% of bitcoin volume is exchanged into and out of the Chinese yuan, which implies that many bitcoin traders are based in the People's Republic (or at least use the yuan as their preferred currency).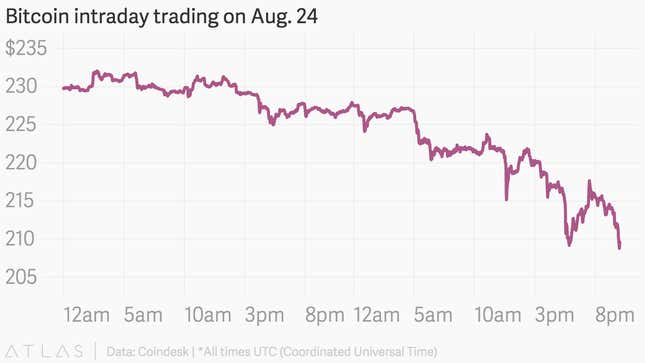 Despite regulatory issues, China is a growing player in the world of bitcoin. Big Chinese mining pools are said to account for a large chunk of bitcoin mining activity. And even though the price of bitcoin is falling, many in China are looking at digital currency as an alternative to China's more closely controlled yuan. "There are a growing number of people who feel that bitcoin is a safe haven of sorts, analogous to the role that gold played historically," Greg Wolfson, an executive at large bitcoin miner BTCChina, told Bitcoin Magazine.