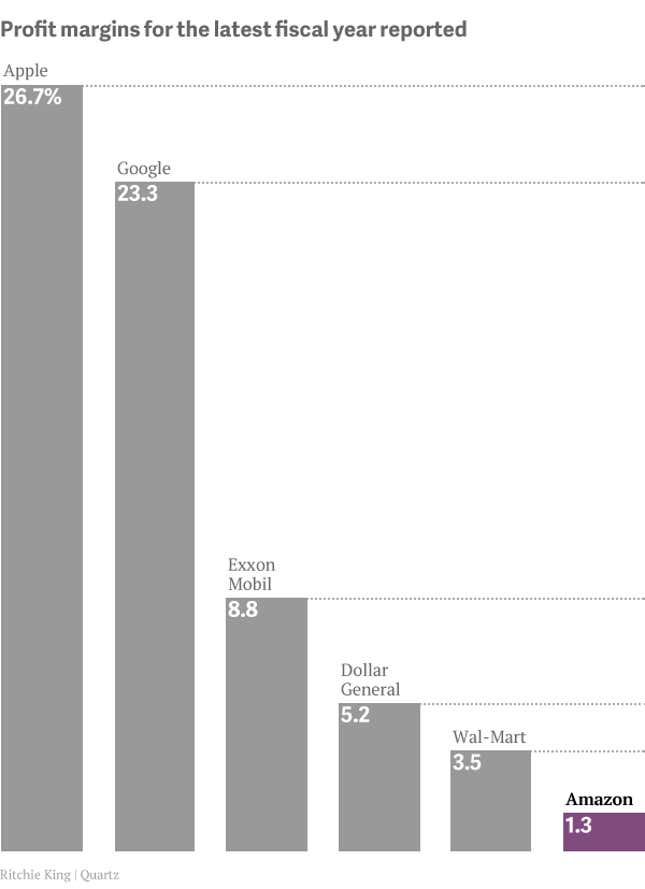 How do you compete with someone who isn't interested in profit? That's what Amazon's competitors—from book publishers to big box retailers—must be asking themselves every day. Amazon CEO Jeff Bezos has said that he is "willing to be misunderstood for long periods of time" by investors and, well, just about everyone else. Today Amazon will announce its latest quarterly results, and analysts are expecting that, unlike last quarter, Amazon will have made some money.
But let's take a step back. How much profit did Amazon make in the past year? Almost none. The company's profit margin is lower than the deepest of deep-discount retailers, like Dollar General and Wal-Mart.
Of course, Amazon's market capitalization of more than $122 billion is thanks precisely to its willingness to endure razor-thin profit margins that undercut retail rivals, which has given it strong market position and, more importantly, momentum.  Investors are betting that, some day, that momentum will translate into much larger profits.
But Jeff Bezos never put a time limit on how long he's willing to be "misunderstood."