The long decline of murders in American cities has started to take a deadly upward turn. Major cities across the country are seeing the number of homicides rise from last year's figures.
The rise was covered last month by USA Today, and recent reporting by the New York Times revealed more data behind the trend. The Times analyzed homicide figures for various large cities that have seen more murders so far this year than at the same point in 2014.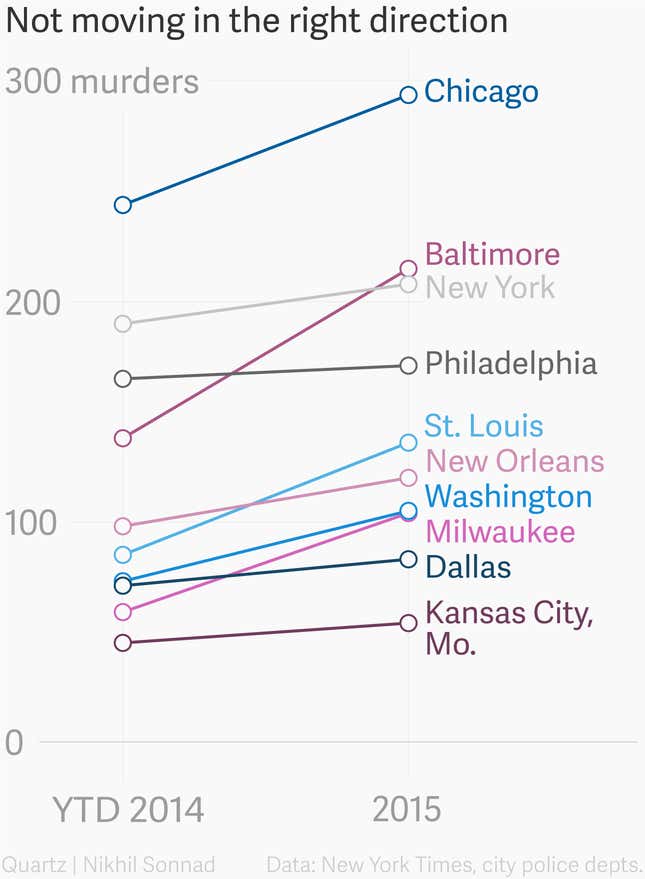 Milwaukee has seen murders jump 76%, from 59 at this point last year to 104 today. Other cities also saw big increases over the same period: 60% in St. Louis; 56% in Baltimore.
What explains the reversal? Criminologists and police departments are not quite sure.
One explanation is that people are starting to trust police less. That has led them to settle disputes themselves—often violently—and also led police to back off on aggressive tactics like New York's stop-and-frisk, which the city's new mayor has been toning down.
Another explanation is the proliferation of guns. Milwaukee's police chief, speaking to USA Today, partially blamed his city's murders on "absurdly weak" gun laws.
But the change may also just be an anomaly. America's murder rates have been falling precipitously since the frighteningly high peaks of the 1980s and 1990s. Amid such consistent declines, a slight fluke increase is not such a surprise.
Take, for example, the tremendous rise and then fall in New York City murders over the past century: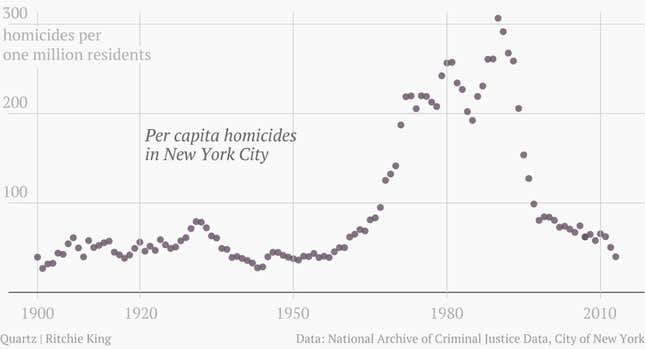 The small uptick may be an aberration, but it might also simply show that American cities are hitting the lower limit of how far murders can fall with current gun laws and funding levels.