These days, getting dressed can feel like an environmental catastrophe: fast fashion is piling up in landfills; the pesticides used on cotton are dangerous; and soon we will all be wearing plastic—if we're not already.
Clothing companies have come up with myriad ways to assuage our consumer guilt, and presumably, reduce our environmental impact in the process. They're offering clothes made from trash, traceable down, and organic cotton, for example. And now Freitag, the Zurich-based brand known for its bags made from recycled truck tarps, has a new development: compostable jeans.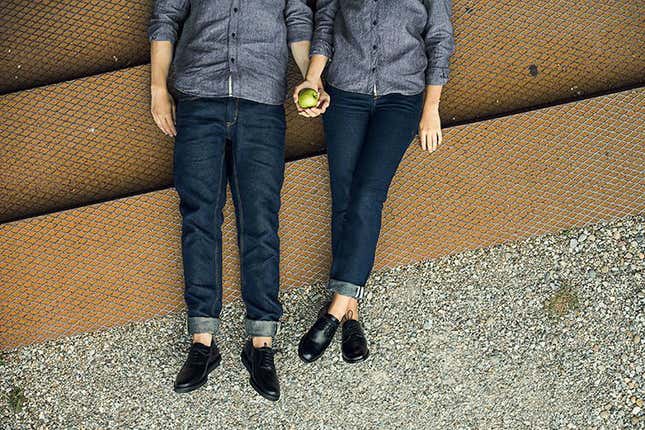 The blue jeans, which Freitag is promoting with a somewhat hypnotic video of a couple getting dressed on the back of a horse galloping in circles (to represent the unbroken cycle of the material?), are made of a linen and hemp blend, from fibers grown, spun, and woven in Europe, with minimal chemicals and no bleaching.
While one would presume that old-school blue jeans made of cotton denim—as opposed to the stretchy synthetics so popular today—could similarly end up as compost, Linda Greer, the director of the health program at the Natural Resources Defense Council, has told Quartz that's rarely the case: "They need to go to a facility that chops them up and then gives them water and oxygen and nutrients and that kind of thing," she said. "Suffice it to say that very, very little solid waste has that disposal destiny."
And even if your jeans had such a destiny, it's likely that polyester thread and metal buttons and rivets would keep them from turning into dirt—an issue Freitag solved with an un-screwable button and biodegradable thread.
It's not clear that compostable clothing is the way to a more environmentally sustainable future for fashion, but Freitag's new jeans—along with four compostable fabrics developed alongside the denim—address a handful of issues surrounding clothing's environmental impact. Among them are the transport of materials, the use of chemicals in growth and processing, and low-impact cotton alternatives.
The company already has cultivated a great, global business with its bags. It will be interesting to watch where it goes now with fabrics.