It sounds like the premise for a Portlandia sketch, but you can buy clothes made from plastic trash. Nike already makes jerseys out of it, and the popular Dutch denim brand G-Star Raw has a clothing line with musician Pharrell made from reclaimed ocean plastic. Soon you'll be able to add sneakers to that list.
At a United Nations event on June 29, Adidas showed a prototype of a sneaker with an upper made "entirely of yarns and filaments reclaimed and recycled from ocean waste and illegal deep-sea gillnets." It's the result of Adidas's collaboration with environmental group Parley for the Oceans, which also works on G-Star Raw's line in collaboration with textile company Bionic Yarn. And while it's not in stores just yet, Adidas says it "offers a first look at the kind of consumer-ready ocean plastic products that will be revealed later this year."
Perhaps most noteworthy is that these products actually look good. Stylistically they may or may not be your thing, but the materials, in terms of their appearance and feel, don't bear any negative trace of their modest origins.
Adidas' sneakers, for instance, just look like a new type of knit or woven footwear, like its Primeknits. In fact, sneakers with knit uppers, most notably Nike's Flyknits, are already popular among athletes and the fashion crowd. It's not hard to imagine people actually wanting to wear these.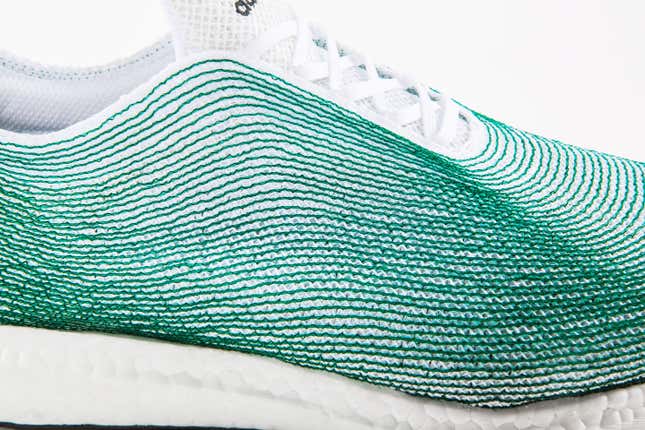 G-Star Raw has probably the toughest act to follow in trying to mimic denim with recycled plastic. But actually handling the product, there's no majorly discernible difference between that denim and a denim fabric with stretch that you would find at many retailers. (It won't likely replace raw selvedge denim for hardcore denim nerds though.)
"It looks, feels and wears like traditional denim," Shubhankar Ray, G-Star's global brand director, said of G-Star's reclaimed-plastic jeans in an interview. "It develops character over time and improves with age—you would never guess at the technology when you touch the product, that it is made from recycled plastic bottles."
The motivation for these projects is to address the shocking amount of discarded plastic the world has to contend with. (A few more sales and some sustainability cred don't hurt either.) An estimated five trillion pieces of plastic trash are afloat in just the world's oceans, to say nothing of what's clogging landfills.
Making clothes out of recycled plastic won't singlehandedly solve such a huge problem. But it's a step in the right direction, and it will only work if the companies doing it make products that customers actually want to buy. So far so good.