Let me start with this: I do not doubt that thousands of Icelandic people want to help refugees from Syria. So do thousands of Germans, Brits, Greeks—in fact, very likely people from countries across Europe (and beyond).
But the claim circulating the internet in the past 24 hours that "10,000 Icelanders" have offered "to house Syrian refugees" is not true. It's the result of vague reporting and hasty aggregation.
There's also something else in the mix: hope. There is a huge and genuine desire to help people we see suffering—in this case, refugees of conflict and repression. And we want to believe in the goodness of humanity.
This is how these particular headlines surfaced. On Monday (Aug. 31), Agence France-Presse published a story from Reykjavik, headlined "More than 10,000 Icelanders ready to welcome Syrians." The story cited a Facebook "event" started by local author Bryndís Björgvinsdóttir. She suggested that Iceland's current "quota" of 50 refugees should be increased by five more, saying she would pay for the refugees' travel and knew a place they could stay.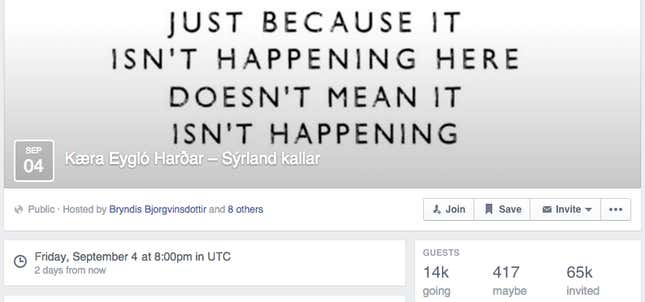 The post, which she wrote as an open letter to the Minister of Welfare, called on others to "push the government" to take in more refugees. It didn't take long for 10,000 people to "join" the event, with many posting heartfelt messages, including some offers of accommodation.
That is what happened.
It's not nothing. But it also isn't 10,000 Icelanders—3% of the country's entire population—promising shelter. Within hours, articles appeared across the world that drew heavily on, and amplified, AFP's story, reporting a massive upsurge of actual offers of housing. But these obscured the reality of the matter.
Björgvinsdóttir agrees. "It's not true," she said in an email after I sent her a story that made the "10,000 Icelanders" claim and used her photo. She later added a note to the top of the Facebook page clarifying that, "Not everyone in this group is offering their home but many are nonetheless."
It is also unclear how many of the thousands of people who "joined" the event are from Iceland. Facebook is a global platform. The original post was written in Icelandic and English. Pia Ohlin, deputy bureau chief at AFP's Stockholm bureau, said in a phone call that she had "no reason to doubt this was an Icelandic initiative," though she agreed that not every person who signed up might be Icelandic, nor that every individual who joined the group is actually offering accommodation in their home.
The campaign has indeed got the attention of the government, which has mentioned it as a factor driving possible policy changes, according to Icelandic media (link in Icelandic). In general, as in many other parts of Europe, officials in Iceland are currently rethinking their refugee policies.
Facebook is a great tool for galvanizing people to action, but clicking a button on the site does not constitute action in itself. As of this morning, 14,000 people have joined Björgvinsdóttir's event page. The comment section is full of messages of solidarity from across the world. People want to help. The question, though, is how to turn that desire into a reality.