China has been preparing for today's parade celebrating the "War of Resistance against Japanese Aggression and the World Anti-Fascist War," or the end of World War II, for months now. The march was a well-organized spectacle of military might—albeit with an unexpected message for China's military.
Xi Jinping, China's president and Communist Party leader, greeted the parade from a shiny black Hongqi, the Chinese-made car that has for decades been used to transport the party elite: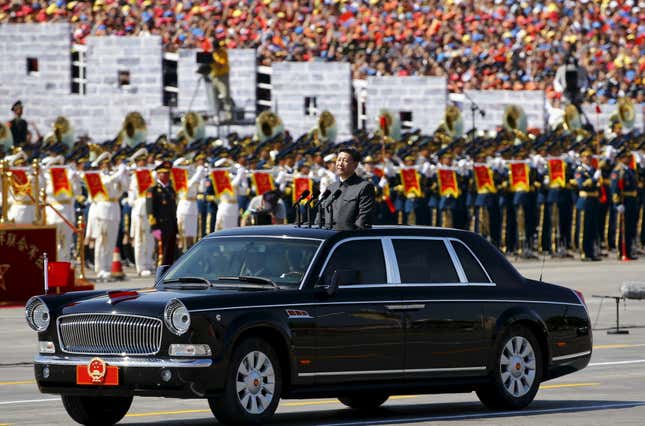 But he didn't exactly deliver cheerful news to the 12,000 soldiers who were participating—he announced a sweeping reorganization of the military in a speech before the parade started, which includes cutting about 13% of the 2.3 million-strong army, or about 300,000 troops. That doesn't mean the country is demilitarizing; it is likely part of a pivot toward a military that relies more on advanced technology than raw numbers of soldiers.
As the parade started, Xi impassively inspected the troops (starting at about the 4-minute mark):
There were 11 formations of active soldiers marching, and another two formations of veterans: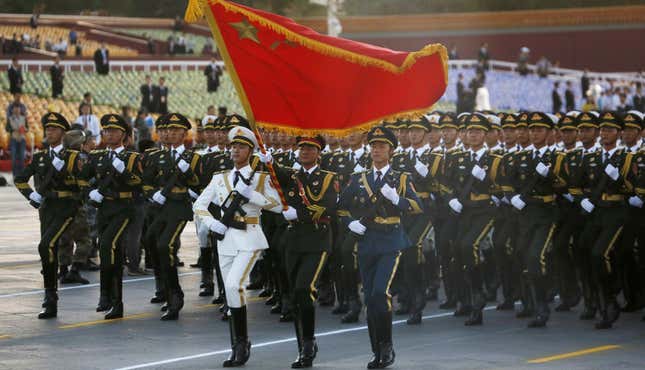 They were accompanied by a long procession of weapons, including China's very own drone, the Pterodactyl: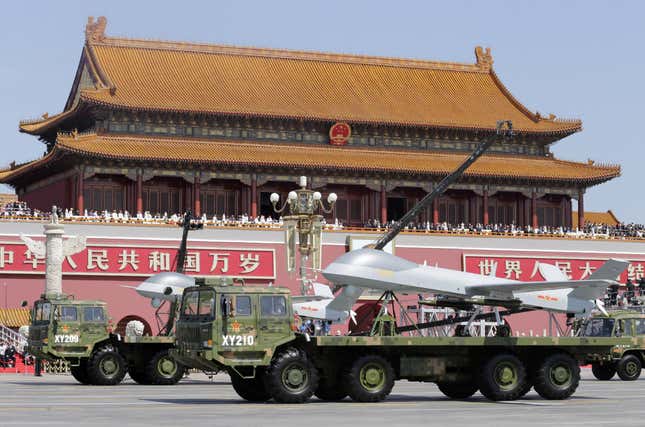 And the DF-15B short-range ballistic missiles: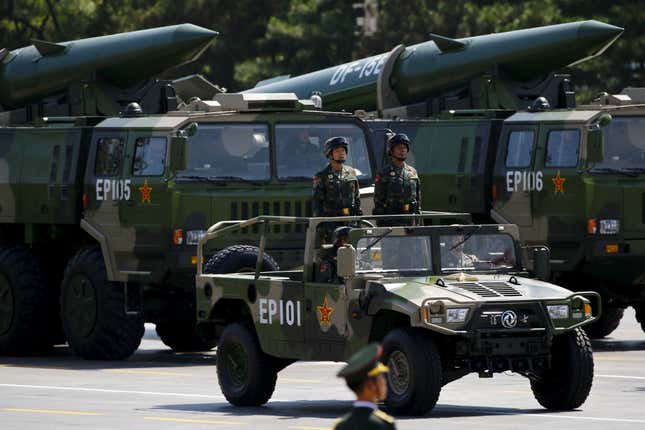 The parade route was mostly free of cheering crowds, because the area around Tiananmen Square had been cleared ahead of time for security reasons. There were few spots where the public could view the parade, and nearby roads were deserted, but some Beijingers came out of their homes to photograph the fly-by aircraft:
Meanwhile, online, where Chinese netizens had been instructed earlier to "safeguard the parade with [their] fingertips," they were also cracking jokes, including about India's Republic Day parade, which traditionally includes acrobats on motorcycles:
There were acrobatics on display in Beijing today, too, just of a more military bent. But the parade did end on a peaceful note, with the release of a huge flock of doves, which might go some way to replace the bird population cleared out before the parade: