European leaders are set to meet next week to discuss the migrant crisis, but have thus far shown little unity. While mounting calls to take in migrants have fallen on deaf ears, European citizens are responding.
Refugees Welcome is among a number of initiatives that has been launched to ease the burden of desperate migrants. Dubbed an "Airbnb for refugees," the organization brings together people who have a spare room with refugees who are in desperate need of decent accommodation.
The initiative first started in Germany, but now also has a base in Austria. More than 780 Germans (pdf) have offered to take refugees in as roommates—the Facebook page recently celebrated its 80th placement in Germany and the 44th in Austria.
Achim and Atif are among the many people Refugees Welcome has brought together. The pair are unlikely roommates, but they have one important thing in common—both know what it is like to lose their homes. Achim, a 63-year-old German bus driver, fled from East Germany to the West and is now eager to help refugees going through similar struggles—people like Atif, a 22-year-old Pakistani refugee.
Germany is a popular destination for migrants; the country is expecting to take in 800,000 asylum seekers this year. Many end up being housed in refugee centers, where attacks from the far right have increased. Instead of relying on these centers, Refugees Welcome is calling on local citizens to open up their homes.
The initiative seems to be having a positive effect. The organizers recently shared a message in German they received from Christoph on Facebook, who took in Syrian refugee Yusuf, who not only found an apartment but also a job. "As you can see, it has all worked out for the best!" he said. Christoph describes the service as an "enriching experience" and is happy to offer his spare room to another refugee.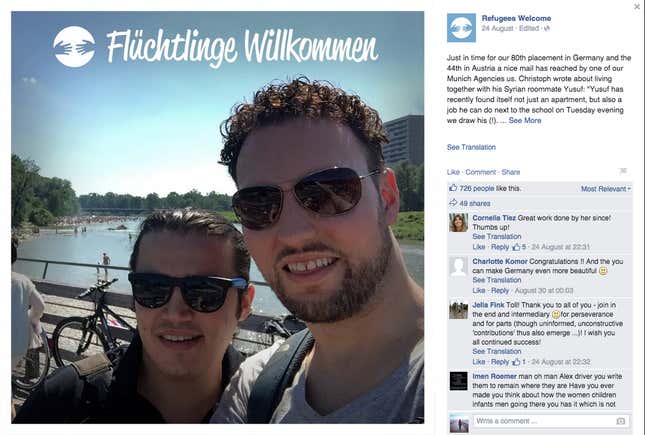 The organizers themselves have also sublet their room to an asylum seeker. In a third of cases, the Job Center or the Social Welfare Office covers the rent. Some pay the rent privately and almost a quarter of the rent is paid with private donations.
"We are convinced that refugees should not be stigmatized and excluded by being housed in mass accommodations," Refugees Welcome states on its website. "Instead, we should offer them a warm welcome."