Thirty years ago, most people in the area of Grand Rapids, Michigan, steered clear of its desolate downtown. Back then, residents lived in the outlying residential neighborhoods, a suburban sprawl supported by endless strip malls and IHOPs.
But downtown Grand Rapids has become home to a daily local food market, stellar pubs (including the world-renowned Hopcat beer bar), in addition to dozens of incredible hotels, restaurants, and retail stores. And at the center of what's now known to many as "Beer City, USA" is Founders Brewing Company, a community hub pouring award-winning beer and hosting live music four days a week. Founders has contributed to the economy of Grand Rapids for sure–but it has almost singlehandedly established its culture, arguably saving the town from Midwestern anonymity.
In 1994, back when the US was anything but ready for craft beer, college friends and fellow home-brewers Dave Engbers and Mike Stevens committed to building a brewery together. At the time, the two understood as much about business as the investors did about beer. "Some of these [investor] guys would just ask you immediately, 'What's my ROI?' And we were like 'What's an ROI?'" Engbers recalls.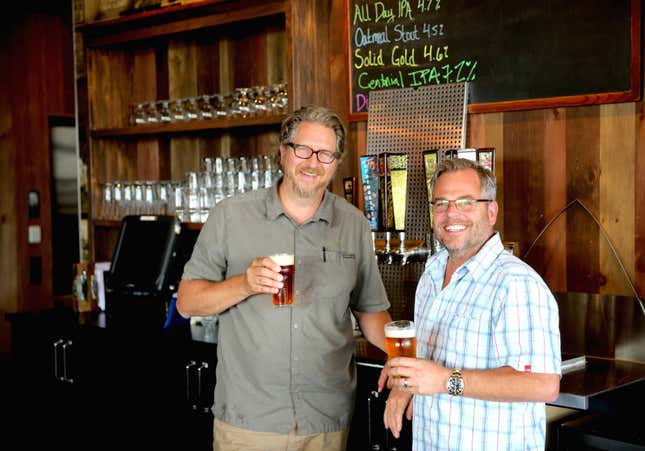 According to these two Grand Rapids natives, the city was always pretty quiet. Says Stevens, "I can recall when one of the busiest streets in Grand Rapids, 28th Street, was farmland for quite a ways … There were no bars, no arts or entertainment, no restaurants. There was no development."
Not that Grand Rapids was lacking for industry: Beer City, USA, was once quite literally known as "Furniture City," the top furniture-manufacturing hub in the US from the 1870s through the 1960s. But the decades that followed saw a suburban flight, according to Janet Korn, senior vice president of Experience Grand Rapids. Korn says that as shopping malls opened in the suburbs, families followed, as happened all around America.
It seems that residents didn't even think about venturing downtown again until 1994, when Fifth Third Ballpark (originally Old Kent Park) was built to host the West Michigan Whitecaps, a minor league baseball team. The success of the park led to the 1996 installment of the Van Andel Arena, which hosts sporting events and concerts.
The construction of these two venues was a catalyst for the revival of Grand Rapids, convincing more entrepreneurs to take a chance downtown. But none of that ever mattered to Engbers and Stevens—there was never any doubt that they'd open their dream brewery in their own hometown. As Engbers points out, "Grand Rapids is the second largest city in the state, and Kalamazoo already had Bell's," which had already proven success in a much smaller town. "Why can't there be a brewery in Grand Rapids?"
They opened the doors to Founders Brewing Co. in 1997, on North Monroe Avenue in the Brass Works Building, a former warehouse converted to a mixed-use commercial space. Despite being popular with locals, the business was anything but an instant financial success. Former manager and part-owner of the building, John Green—who now serves as executive chairman at Founders–recalls that he "threatened to evict the business many times."
By 2005, Founders had gotten current with its payables, but the business was still not bankable. Green and his Locus Development partner Andy Winkel thought they could take things to the next level when Engbers and Stevens decided to leave their old, cramped space. "It was very small, and it was in an emerging part of town," says Green. "I think there was a lot of potential…[but] it limited production, and there was no opportunity to expand the retail side of the business."
In 2006, the brewery moved to its current location by utilizing a Small Business Administration (SBA) loan that, in Green's opinion, "is one of the greatest success stories of that program … There is no way a bank would have loaned [us] the money that we needed without the federal government guarantee that comes with an SBA loan." In addition, government-issued brownfield incentives provided partial offsets to the cost of building in an urban environment where contamination is prevalent. And the new site—the former Preston Truck Depot—was contaminated, indeed: though the property was technically "vacant" when purchased, it housed squatters, pigeons, mattresses, and even a lone, detached toilet bowl.
Once settled in their new, much larger space, Founders maintained its values. "We refuse to take shortcuts," Engbers explains, defending the decision to consistently sacrifice on volume and therefore profit in order to leave time for more experimentation. As Stevens puts it, "From early on, we've chosen to live on the pioneering side … creating trends and not following them." No single beer ever has defined Founders—the brand has consistently innovated new styles, whether in bottling bourbon barrel aged beers, or more or less inventing the Session India Pale Ale (IPA).
Luckily for Founders, in the years that followed their move, craft beer began picking up steam on a national level. Many Americans started eating better, slowly rejecting mass-produced junk food. With this national trend gaining momentum, Founders helped inspire a homegrown "eat and drink local" movement throughout Grand Rapids. A new breed of businesses began opening, including the beloved sandwich café Marie Catrib's in 2005, and roaster/retailer MadCap Coffee in 2008.
Founders' success, and its bottom line, still ultimately comes down to the beer. The brewery holds a 97% rating at BeerAdvocate.com, arguably the most reputable user-driven beer review resource. Their most famous beers—including their Breakfast, Kentucky Breakfast, and Canadian Breakfast stouts—hold some of the site's highest ratings. The fact that their beers are of such high quality has brought attention to the city in which they are brewed. "Being a product-driven company put us at the forefront of the industry, which put a spotlight on us, and on Grand Rapids," says Stevens.
Stevens notes that the worldwide acknowledgement the company's beers have gotten has encouraged the beer industry to flourish in Grand Rapids. "Now we have all these breweries that are doing a great job," he says. This growing community entices beer fans from all over the world who not only make the pilgrimage to visit Founders, but the other breweries in town, too. Engbers points out that beer enthusiasts "are vocal, they travel, and they spend money not just at breweries." These are tourists who build cities.
The company hasn't stopped being active in the local community, though. With water being the single most important ingredient in beer, Founders has decided to partner with Grand Rapids Whitewater, a river restoration project. Employees regularly volunteer to clean the Grand River, raise money, and organize events to heal the neglected stream. The brewery is also a large sponsor of ArtPrize, the city's annual international competition that awards the world's largest art prize (currently $560,000). And of course, it employs a lot of people—nearly 300. "Founders is a good corporate citizen," Korn vouches. "They're not just making beer to make money."
Additionally, Founders collaborates with other businesses, which contributes to Grand Rapids's economy as a whole. Perhaps the best example of this is BLiS, a small company producing barrel-aged products such as fish sauce and soy sauce. BLiS provides Founders with the maple-syrup bourbon barrels used to make Canadian Breakfast Stout. BLiS then retrieves these barrels to age a hot pepper sauce they call Blast, after which those same barrels are given back to Founders to make BLiS Blast All Day IPA (stay with us, here). Finally, BLiS uses those same barrels to make more hot sauce.
BLiS owner Steve Stallard, a Grand Rapids resident since 1985, recognizes the rarity and significance of this ideally symbiotic relationship. "I think there's a core group of individuals that are committed to developing this community," Stallard says with gratitude. Meanwhile, a restaurant called Grove—arguably the best place to dine in Grand Rapids—serves Founders beer and uses BLiS products in their cooking. "That's how the momentum starts," Stevens explains of the synergy. "You can turn around within 10 years and have a really kickass town because of a couple of really cool places that might have opened with some great spirit and soul."
The thriving suburban neighborhoods of Grand Rapids have long been thought of as nice, safe places to grow up. And while the city's downtown was built up in part by a few key developers, developers aren't the ones who can make a place cool. Founders played the pioneering role in shifting Grand Rapids' culture, vibe, and values. Beer managed to convert a town once content with chain stores into a creative, culinary-savvy, artistic hub. Beer—beer!—is what made downtown Grand Rapids into an international travel destination, and a place to call home.