British prime minister David Cameron announced today that the UK will be accepting "thousands more" Syrian refugees by expanding its current program of resettling those currently housed in camps on the Syrian border—a shift to his long-held stance on the subject. Only about 200 people, of two million, have been resettled from these camps to the UK under this program since it was set up last year. (The UK has given asylum or other forms of humanitarian protection to about 5,000 Syrians, however, who have made their own way to its borders since 2011.)
Cameron's change of heart appears to have been inspired by the now-iconic photographs of 3-year-old Alan Kurdi's dead body on a beach in Turkey. On this, the Guardian quoted Cameron saying: "Anyone who saw those pictures overnight could not help but be moved and, as a father, I felt deeply moved by the sight of that young boy on a beach in Turkey."
Many other European political figures had expressed similar sentiments earlier, putting pressure on Cameron to acknowledge the significance of the photograph and respond with a policy change. A public petition to the UK Parliament, calling for the government to accept more refugees, had garnered more than 300,000 signatures by the evening of Sept. 3.
Though Cameron did not offer a specific number during his press conference today, the BBC reports that the UN refugee agency says the UK will be taking in an additional 4,000 Syrian refugees.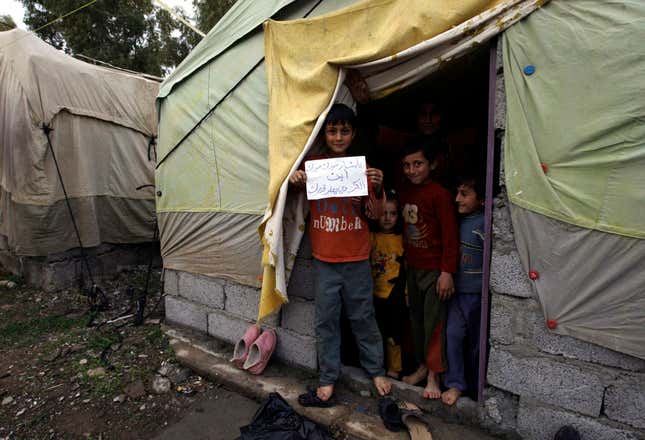 In Australia, meanwhile, prime minister Tony Abbott is using the Syrian toddler's photograph to justify his strict policy on refusing all migrants who approach Australia by boat. "We saw yesterday on our screens a very sad and poignant image of children tragically, tragically dead at sea in illegal migration," Abbott told the Australian Broadcasting Corporation. "And thankfully we've stopped that in Australia because we've stopped the illegal boats."
The New York Times recently described Abbott's "ruthlessly effective effort to stop boats packed with migrants, many of them refugees, from reaching Australia's shores," as "inhumane, of dubious legality and strikingly at odds with the country's tradition of welcoming people fleeing persecution and war." Abbott denied that characterization in his radio interview.
Hungary's prime minister, Viktor Orban, also doubled down on his position as, in the words of Quartz's Jake Flanagin, "Europe's chief anti-immigrant crusader." Standoffs between migrants and Hungarian authorities continued on trains outside Budapest today, while Orban reiterated his fear of Muslim refugees making Europeans "a minority in our own continent." Hours ago, Orban's government approved orders to deploy the military to the border with Serbia and set up migrant camps for asylum-seekers there. A razor-wire fence already exists on the border; now, crossing or damaging it will be a criminal offense.
EU ministers will attend an emergency meeting to discuss the continent-wide crisis on September 14 in Luxembourg. Germany's Angela Merkel and France's Francois Hollande are advocating for an agreement in which each member country is obligated to take a quota of refugees. Merkel has been widely praised this week for her approach and the "mostly smooth" welcome refugees have received in Germany.
Notably, the rich Gulf nations of Qatar, United Arab Emirates, Saudi Arabia, Kuwait, Oman, and Bahrain have yet to offer refugees any kind of haven. Meanwhile, the Egyptian telecommunications tycoon Naguib Sawiris has offered to buy a Mediterranean island for the world's refugees.