Martin Margiela was a weird, visionary designer. He made garments out of home furnishings, reproduced doll's clothing at human scale, and created boots with cloven toes. He was famously reclusive, and easily one of the most influential figures in fashion of the last twenty years.
He's also the guy who designed Hèrmes' extra-long watch band—the one featured in many of the press images from Apple's announcement on Sep. 9 of a special iteration of the Apple Watch.
The band, known as the Double Tour since it wraps twice around the wrist, was one of Margiela's first successes during his tenure as Hermès' womenswear director from 1997 to 2003. Introduced in 1998, it was a simple enough idea: extend the length so it coils around the arm, rather than just embracing it.
But it changed the look of the otherwise staid watch face, and made the watch unique and exciting in the luxury market. It was the kind of subtle but smart design Hermès must have hoped for when it tapped Margiela, who was known for raw, deconstructed clothing, to help lead the rarefied house.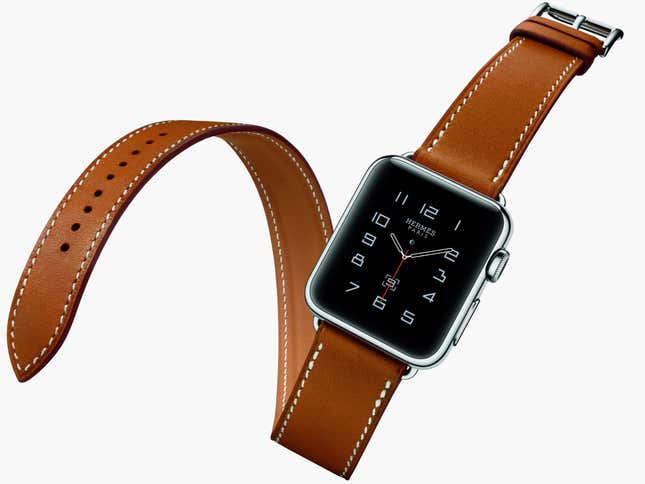 The band is now a signature offering from Hermès, and the most attractive of the three bands to be offered as part of the new Apple-Hermès partnership.
It also seems poised to be one of the better sellers—if the watches sell well—since it's already a hit with fashion folks and others outside the tech world.
Most people, of course, will have no idea who designed the band, except for some versed in the details of fashion history, such as curator Adam Wray, who pointed out the provenance in the FashionREDEF newsletter. But Margiela's anonymity here is fitting anyway, since Margiela always hid behind a veil of obscurity. His maison was meant to be a faceless collective. In the rare instance he gave an interview, he would answer questions with the plural "we," and the labels he put in his clothes early on were simply blank.
These days, the brand he created is quite different. He left it years ago, and John Galliano very publicly leads it.
Now, Margiela's work has become part of a signature product for one of the world's most recognizable companies. Margiela, who always loved to see things upended, must be amused.