This post has been updated.
Apple has been pushing hard to get the fashion crowd to fall for the Apple Watch. So far it's been rough going, but it may have just figured out a way.
At today's Apple product event (Sept. 9) in San Francisco, the company revealed that it's partnering with French luxury house Hermès to release an Apple Watch with a custom Hermès interface. Three different bands, handmade by Hermès in France, will be available in the label's high-end leather when the watches start appearing in select stores on October 5.
Apple has also released pricing, and the watches don't come cheap. Here's the full list:
$1,100 for the 38mm case with the single band—or the Single Tour, in Hermès's official brand terminology
$1,150 for the 42mm case with the single band
$1,250 for the 38mm case with the Double Tour band, which is an Hermès signature and sure to be a favorite
$1,500 for the 42mm case with the cuff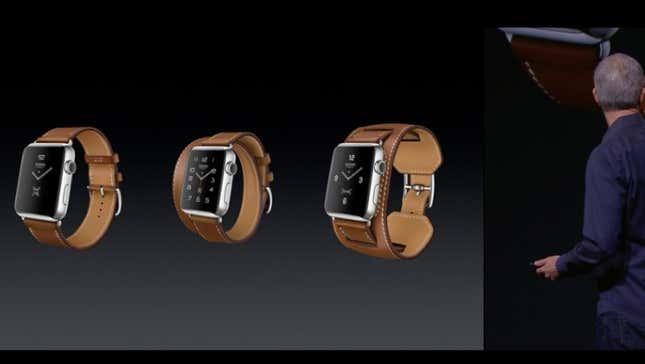 Perhaps most remarkable, beyond this being Apple's first luxury-brand partnership involving the Apple Watch, is that the watches are genuinely attractive, at least judging by the images. The double band in tan leather paired with the squared face, framed in stainless steel, recalls the Hermès Cape Cod, which is to say it looks first like a luxury watch, and second like a gadget. That Hermès watch, incidentally, retails for $2,900.
The bands will come in additional colors as well. The double band, for instance, will be available in capucine, bleu jean, étain and fauve. Colors of the other bands can be found on the Hermès site.

The previous version of the Apple Watch, you'll probably remember, received a ton of flak for its appearance, an uncharacteristic failure for an Apple product. Critics said it was, among other things, ugly and boring, which didn't help to endear it to the fashion insiders it courted, handing out watches to the likes of Karl Lagerfeld and others.
The new version could find success where its predecessor didn't—and just in time. Not long ago, the luxury group LVMH, which owns Swiss watch maker TAG Heuer, announced it would create its own rival to the Apple Watch, one presumably more attractive, and at more than $1,500, definitely a luxury product.