The UN general assembly has voted to fly the Palestinian flag.
Yesterday (Sep. 10), 119 UN members voted in favor of a resolution to raise the flags of "non-member observer states" at the UN's headquarters in New York. Eight countries voted against the proposal, including Israel, Australia, Canada, and the United States, while 45 abstained.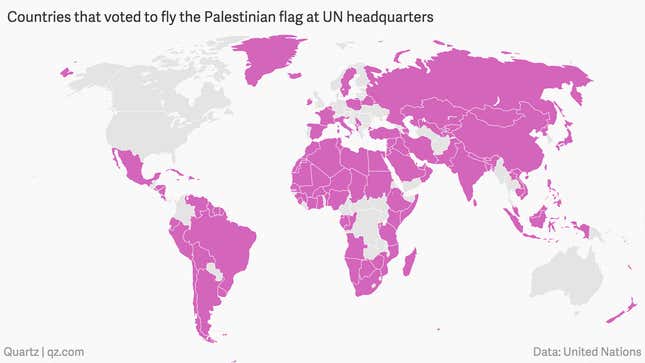 Palestinian UN delegate Riyad Mansour called it a "historic vote," but admitted that the largely symbolic motion will not in itself do much for Palestine's push for statehood. Still, the vote was a "reaffirmation of the legitimacy of the national aspirations of the Palestinian people," he said.
During a heated debate, Israel's UN ambassador Ron Proser criticized the assembly for adopting the resolution. He dismissed the motion as a "photo opportunity," only encouraging Palestinians to avoid the more difficult discussions needed for peace between the two sides.
"Raising the flag was not an alternative and would not bring the parties closer to peace," according to the US delegation. The UK and Germany both abstained, citing "no compelling reasons" to change the line-up of flags outside of the UN building. French ambassador François Delattre, who voted in favor of the resolution, noted that "this vote is symbolic but symbols are important in politics."
Currently, Palestine and the Vatican are the only non-member observer states at the UN. The Vatican refused to co-sponsor the resolution when approached by Palestinian representatives, removing its name from the text. The Vatican isn't opposed to the Palestinian cause, however, as it became the 136th nation to recognize Palestine as a state earlier this year.