A very small change was just made to the world map of countries that recognize Palestine as a state: The Vatican is now among them.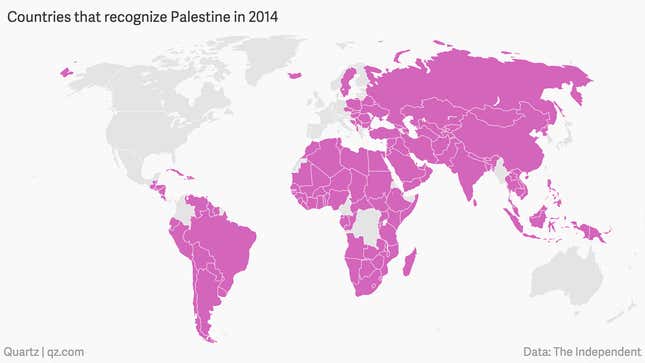 The world's smallest country, taking up half a square kilometer in the middle of Rome, is the third in Europe to officially recognize Palestine, following Iceland (2011) and Sweden (2014).
The Holy See had considered Palestine a state since the United Nations' recognition of it as a fellow "non-member observer state" in 2012, a spokesman told Reuters, and in the 2014 Vatican yearbook, the country is referred to as "Palestine (state of)."
Official diplomatic recognition, however, only came on May 13 in the final version of an official joint statement of the Vatican and Palestine. In it, the Holy See edited the initial wording from PLO (Palestine Liberation Organization) to "State of Palestine." Now it's official.
A Vatican spokesman, reverend Federico Lombardi, confirmed: "Yes, it's a recognition that the state exists." Predictably, Israel—which was only officially recognized by the Holy See in 1993—was "disappointed" by the decision.
A tiny dot the middle of Europe, the Vatican is the 136th state to recognize Palestine as a state. While several other European countries (including France, Spain, and the UK) have expressed support for Palestinian statehood, they have remained in line with the United States' stance by not recognizing it officially.