Many European countries are teargassing and discouraging migrants, but Germany has been taking a different approach—around 450,000 migrants have arrived since January. Many more migrants have their hearts set on settling in Europe's economic powerhouse, and this seems to make economic as well as humanitarian sense.
The increase in migrants will boost Germany's economic growth by around 0.25 percentage points next year, according to Berlin-based economic institute DIW Berlin.
DIW's Ferdinand Fichtner told Reuters that as authorities will have to increase public expenditure—by an estimated €6 billion ($6.7 billion)—to provide necessities such as accommodation and schools, which will in turn result in extra growth in 2016. He also expects to see an increase in private consumption from the increasing migrant population.
Not only will migrants strengthen German economic growth next year, but they could help rejuvenate the aging population. The country's working-age population is predicted to shrink by 6 million people by 2030, with the general population settling at between 68 million and 73 million people by 2060, from more than 80 million today.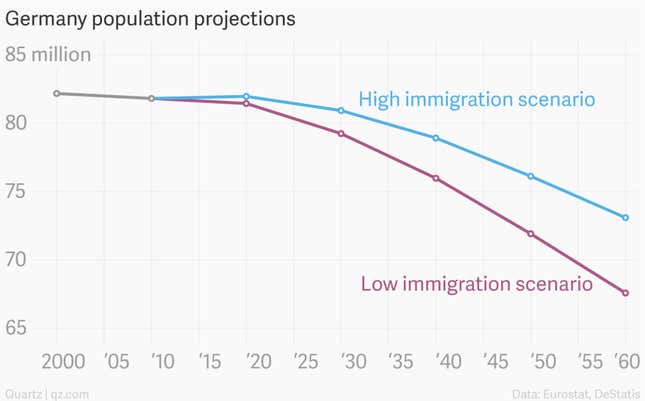 To solve its demographic problem, Germany will need to quickly integrate the large influx of migrants into its society.
Chancellor Angela Merkel has emphasized the importance of getting migrants into jobs or training schemes to avoid a situation where many become dependent on the welfare system. Big business, such as Deutsche Post and the automaker Daimler, are also keen to fast-track migrants into employment, and have even called for a change in labor laws that may restrict asylum seekers from getting work quickly.