The prospect of seeing phalanxes of drones buzzing overhead, maneuvering around one another they drop off packages or survey the landscape, has just inched a bit further toward becoming reality.
NASA has announced that it successfully tested a prototype system that allows unpiloted drones to detect and avoid other aircraft in their midst. The agency's Ikhana autonomous drones were able to sense when something was in their flightpath and make adjustments on their own.
Making sure drones don't run into each other—or anything else—is one of main sticking points the Federal Aviation Administration (FAA) has with companies like Amazon wanting to incorporate a drone delivery system into US airspace. The FAA has been working with NASA to figure out how to safely add drones to the airspace, working with the country's existing air-traffic control system for commercial planes. While the FAA has a set of guidelines in place for safe drone use in the US, it has thus far dragged its feet on actually codifying any regulations—although it apparently will take action by next year.
In the system NASA tested Sept. 16 in the Californian desert—in conjunction with General Atomics, a private defense contractor—the Ikhana drones were programmed with maneuvers for 200 different aviation scenarios. They made 11 flights during which they successfully avoided objects in the flightpath, while sending data back to researchers on the ground.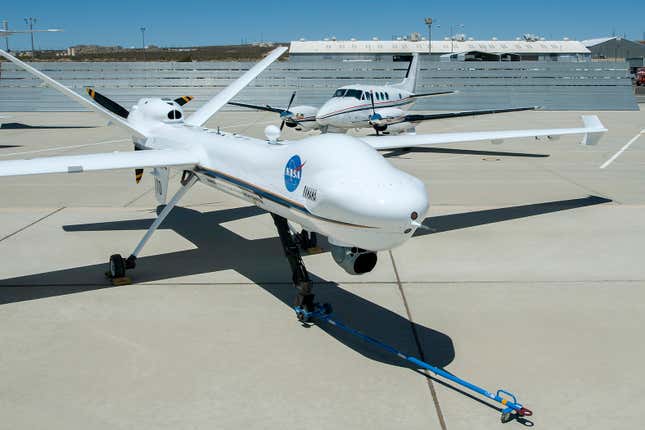 "We recorded some valuable data that will take some time to analyze fully, and we expect we'll need to make some minor refinements to our algorithms, but from what we saw during the tests, the results look promising," Dennis Hines, a program director at NASA's Armstrong Flight Research Center, said in a report posted to NASA's website.
This, NASA said, was the third phase in testing to see how the drones can sense and avoid obstacles in their path. A NASA spokesperson tells Quartz that "these tests are part of an evolving process that will culminate in a capstone exercise next spring." Meanwhile, the avoidance systems are being refined, in order to provide drone operators "with capabilities for avoiding conflicts with other traffic on par with that available to crewed aircraft."
If this technology could be implemented on the sorts of smaller drones that Amazon wants to fly, NASA might have just made a significant dent in one of the biggest challenges preventing commercial drone services from becoming a reality.