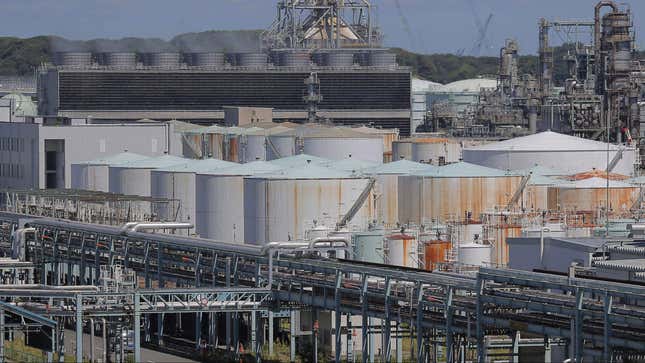 The plummeting yen might be great news for Japanese stocks and Japan's carmakers. But as we've discussed before, it's terrible for the country's energy importers. And earlier today, Tokyo Electric Power Co—better known as Tepco—quantified what "terrible" might actually mean.
The utility projected ¥120 billion ($1.3 billion) in losses (paywall) for the current fiscal year, which ends in March. That's nearly triple what it estimated in October. And the yen's weakness contributed an additional ¥20 billion in projected losses on the previous year (pdf, p.4), a result of Japanese prime minister Shinzo Abe's aggressive policy of yen debasement.
The decline in the yen's value is exacerbating the effects of Japan's shuttering of nuclear reactors. (Tepco ran the Fukushima reactor, which was was hit by a March 2011 earthquake and tsunami.) The need to replace nuclear energy has left Tepco vulnerable to the volatility of hydrocarbon prices. And, sure enough, an unexpected increase in the cost of fuel drove a ¥165-billion increase in losses compared with the previous year—not including the losses associated with yen depreciation. Here's a look at crude oil, fuel coal and LNG price trends from Tepco's report (pdf, p.27):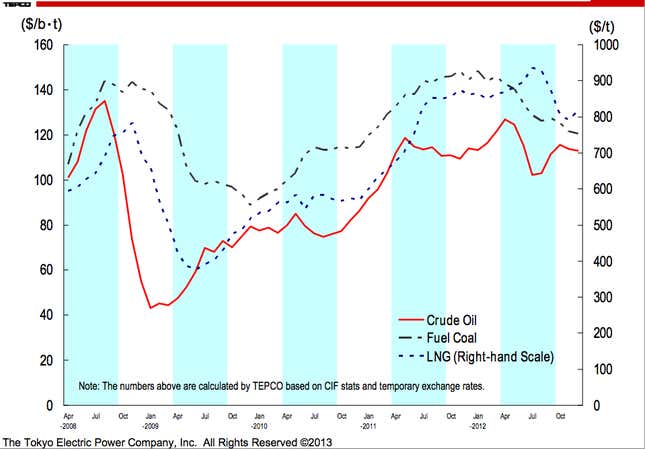 Of course, Tepco isn't the only one suffering the impact of the sliding yen and the energy shock from the halting of nuclear power production. Japan imports almost all of its energy, causing its already yawning trade deficit to widen further. In 2012, the cost of mineral fuels rose more than 10%, as Japan spent ¥24 trillion. In particular, the shift away from nuclear power has seen a pickup in LNG demand. Though Japan has long been the world's biggest importer of LNG, last year its volume soared 11.2% year-on-year, hitting 87 million tonnes, as the value of its LNG imports jumped more than 25% year-on-year (pdf, p.4).
Still, the yen began losing value significantly only towards the end of November, which means it contributed only slightly to this rise in energy import costs for 2012; most of the rise was because of higher import volumes. And this is why Tepco's shocker today is so important. Since its results are a projection to the end of March, they're a look into the future—the most concrete sense so far of just how heavy a burden the weakening yen will be for Japan.