It's impossible to get a real sense of the size of the solar system by staring at pictures of planets on a page or a screen. Unlike most illustrations in astronomy books, Jupiter is not within arm's reach of Earth, creepily hovering over our shoulder. (This is what Jupiter looks like from Earth—it's just a dot in the sky.)
That's why the filmmakers Wylie Overstreet and Alex Gorosh ventured to Black Rock Desert in Nevada to show what our planetary neighborhood really looks like. Across seven miles of barren wasteland, they built a scale model of the solar system, using small lights to represent each planet.
Even on that seemingly vast scale, earth was just the size of a marble.
Our home planet was placed 579 feet (176 m) from the sun; Jupiter was put 0.57 miles (0.92 kilometers) away; and Neptune—the farthest planet from the sun, now that Pluto is no longer a planet—was driven out 3.5 miles (5.6 km) from the model sun. In reality, Neptune is about 4 billion miles from the sun.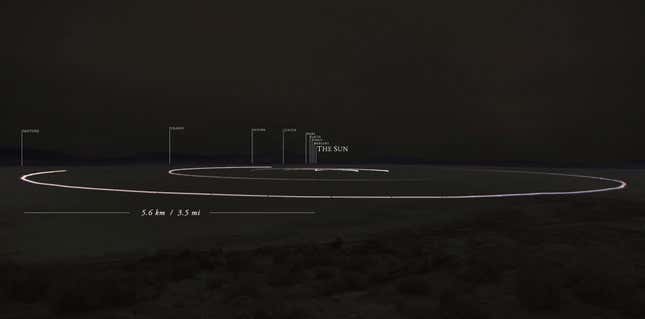 They knew the experiment worked because the next morning, the size of the model sun from the model Earth's perspective appeared to be nearly the exact same as the actual sun: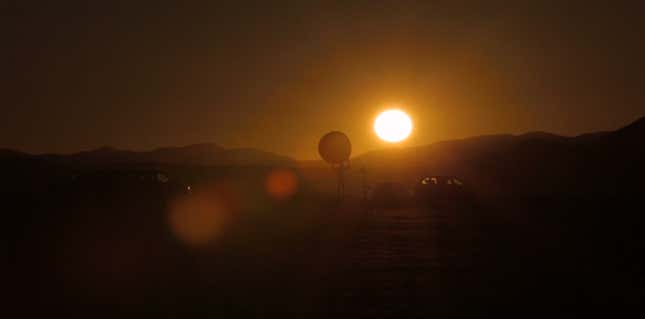 This isn't the first scale model of the solar system. There's one stretching across the entire country of Sweden. Nonetheless, it's an incredible experiment, to say the least, but it's also humbling and a little unnerving. We are so very, very small.
All of this only shows our solar system, which is but a microscopic blip compared to our galaxy, the Milky Way—and that is merely a tiny dot in the universe. And let's not get started on the fact that our universe might not be unique.
The duo's next project will be to put the "immensity of time" to scale so that we can understand just how long the universe has existed. That may prove to be even more difficult to visualize.