This article has been corrected.
About 30,000 runners competed in Beijing's annual marathon this past weekend, despite heavy and visible air pollution. Participants included professional runners like Kenya winner Mariko Kipchumba as well as tens of thousands of amateurs, some of them in cosplay costumes.
The air was bad.
Pollution on race day, Sept. 20, peaked just before noon—or four hours and 30 minutes after the race started, about the time that the average amateur runner would complete the marathon. The air quality index for small particulate matter known as PM 2.5 was as high as 216, according to air quality monitors, a level considered "very uhealthy" by the US EPA.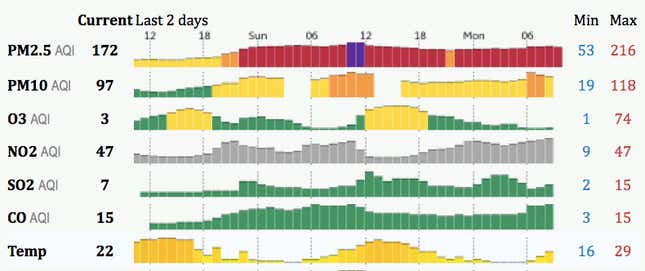 Perhaps that explains why a report that six runners and a race official had heart attacks during the race is being quickly picked up by English-language papers (paywall) and foreign websites.
That report, though, appears to be something of an exaggeration, one that may have its roots in a Weibo post by the Legal Evening News (link in Chinese) claiming a 30-year old runner collapsed from a heart attack.
Most race coverage in China completely refutes it.  The Beijing Times reported  that eight runners went to the hospital, just one from a heart attack. One 52-year old runner and one judge had a heart attack, the Beijing Morning Post reports, while three other runners were taken to the hospital for dehydration. The paper said that four people remain in the hospital Monday morning.
Seven heart attacks during a marathon would be an astounding number.
A study published in the New England Journal of Medicine in 2012 looked at a decade (pay wall) of marathon running and 11 million runners, and found that just 59 of them had had heart attacks during a race. In the nearly five decade history of the New York Marathon, where over 50,000 runners compete, only three participants have had heart attacks before or during the race.
But bad news about China, and particularly about pollution in China is quick to spread on the internet. That's in part because, as Quartz reported last year, foreigners are "so convinced China is a dystopian hellscape they'll share anything that confirms it."
An earlier version of this article incorrectly identified PM 2.5 as "large" particulate matter, and incorrectly identified how it was measured.