Meet the cheery little WEpod: the first-ever driverless shuttle to travel on public roads.
Made for transporting six passengers at a time, the shuttle—which has only been tested in private areas until now—will debut on a route between two towns in the Netherlands starting in November, The Telegraph reports. The project is the child of French vehicle manufacturer EasyMile and EU-funded transportation initiative Citymobil2, which has already helped transport 19,000 passengers in similar driverless shuttles in Finland.
Though various forms of automated public transport already exist in cities around the world, the Netherlands' WEpod will be the first to drive in normal human traffic. Passengers can use an app to book rides on the shuttle, which is expected to expand from its initial one-line route to serve various other Dutch regions by next summer.
The vehicle will travel at a slow crawl of 25 kilometers (15 miles) per hour, and will not—at least for now—attempt to travel at night or in bad weather.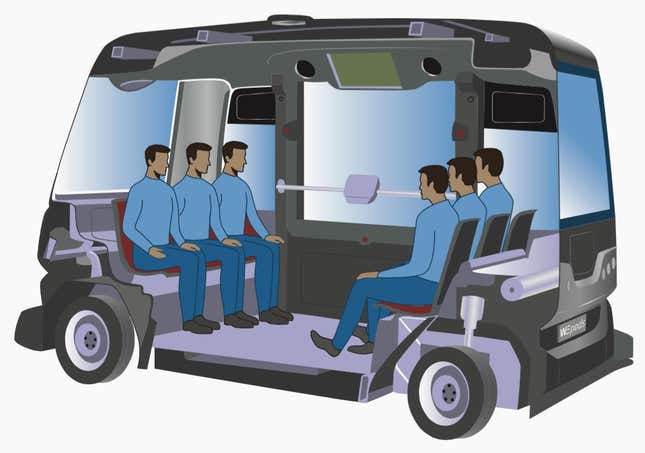 Autonomous public transport has long been of interest to local governments, who see it as a way to replace outdated transit systems with safer, cost-efficient vehicles. But as transportation experts have pointed out, it's not as simple as mastering the technology.
The infrastructure of mass transport itself needs to be rethought—a daunting task to which no company experimenting with driverless technology, not even Google or Uber, has yet risen. A recent report from the Center for Urban Transportation Research in Florida found that in the US, at least, autonomous vehicle technology is far more advanced in the automotive industry than in the lagging public transit industry.
The EU's Citymobil2 program aims to make the latter a priority. Already, it's helped launch autonomous shuttles in pedestrian areas in Switzerland, and put a driverless bus in central Greece.
Watch a demonstration of the WEpod technology below: