In an age where kids can access porn from the machines they carry in their pockets, banning books seems like an antiquated means of information control. But that doesn't keep people from trying.
Every year hundreds of books in schools and libraries are "challenged" around the United States, mostly by parents trying to keep their kids from coming across explicit material or values they disagree with. These complaints are tracked by the American Library Association's Office of Intellectual Freedom (OIF), which compiles an annual list of the most challenged books in the US.
Next week libraries and schools around the US will celebrate Banned Books Week to raise awareness about intellectual freedom, as well as the ongoing efforts that threaten to undermine it. To that end, here are the OIF's top ten most-challenged books:
1) The Absolutely True Diary of a Part-Time Indian (2007), by Sherman Alexie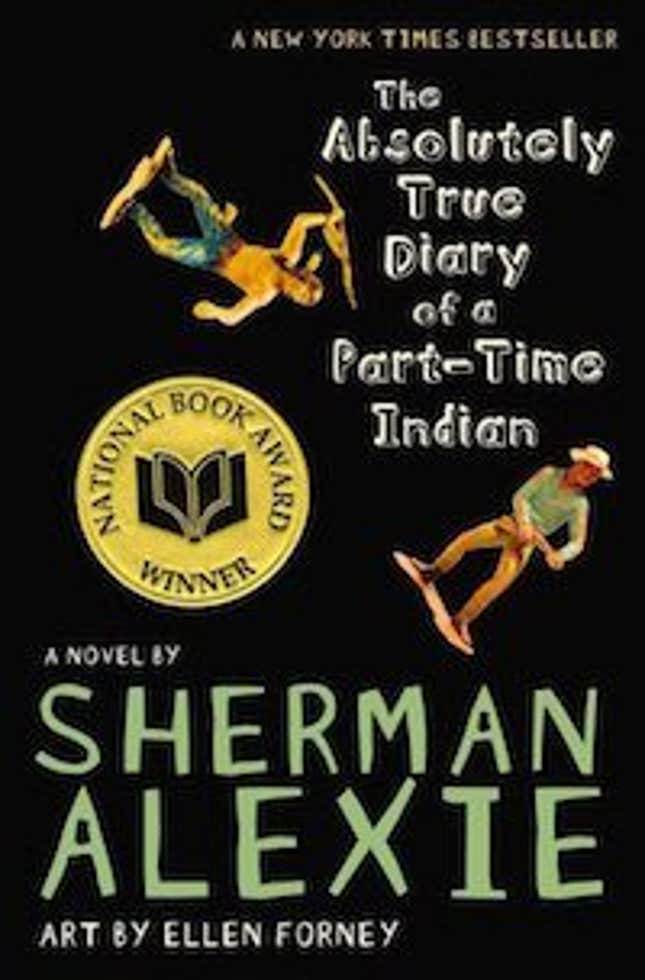 Synopsis: A fourteen-year-old boy leaves the Spokane Indian Reservation he grew up on, to attend an all-white high school.
Reasons for challenge: "Anti-family," cultural insensitivity, drugs/alcohol/smoking, gambling.
Following parents' complaints, this National Book Award winner was taken off the 2014 supplemental reading list at Meridian High School in Idaho for, among other reasons, being "viewed as anti-Christian." It was also removed from last year's list of approved books at Texas' Highland Park Independent School District.
2) Persepolis (2004), by Marjane Satrapi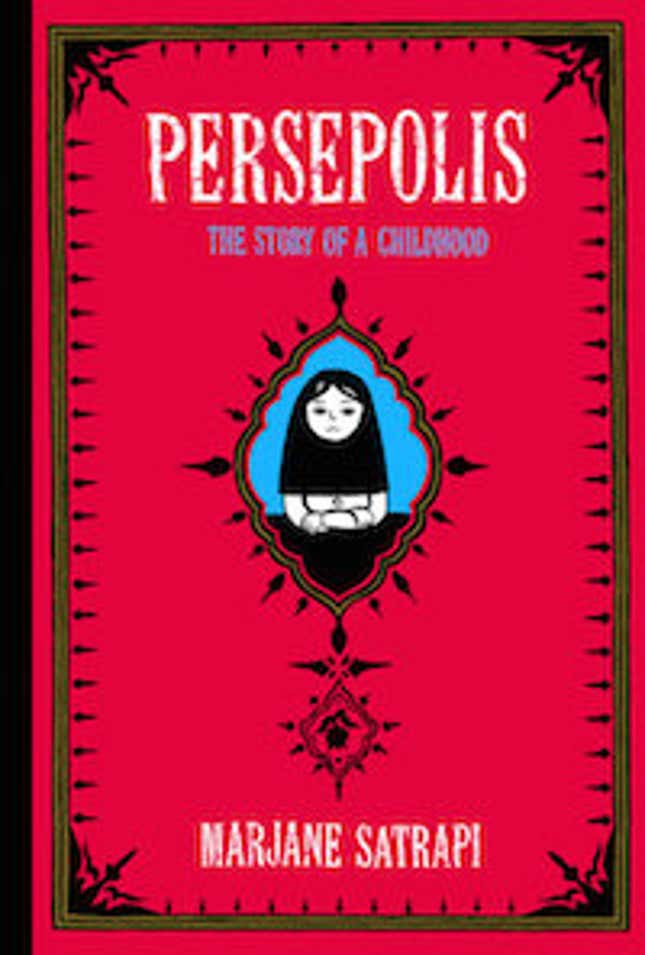 Synopsis: Satrapi's graphic novel memoir, Persepolis is about growing up in Iran during the Islamic Revolution.
Reasons for challenge: Gambling, offensive language, political viewpoint.
The graphic novel was challenged in Chatham, Illinois but has yet to be removed from the high school reading list. In 2013 the book was banned from 7th grade classrooms in the Chicago public school system.
3) And Tango Makes Three (2005), Justin Richardson and Peter Parnell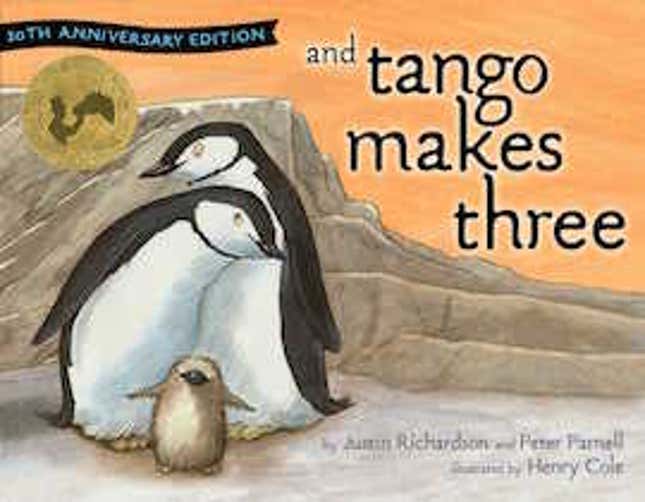 Synopsis: Based on the true story of two male penguins who raised a baby penguin together, And Tango Makes Three is a picture book aimed at 2- to 5-year-olds.
Reasons for challenge: "Anti-family," homosexuality, political and religious viewpoints.
The book has appeared on the ALA's list seven times in the decade since it was published.
4) The Bluest Eye (1970), by Toni Morrison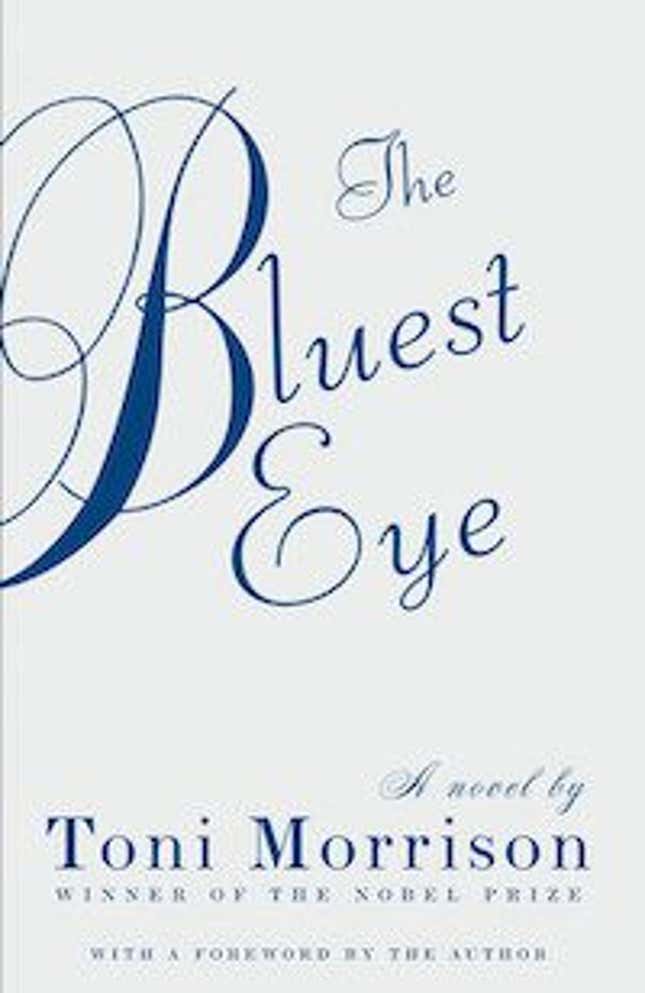 Synopsis: Morrison's first novel, about a young black girl who grows up in a violent, sexually abusive home and wishes desperately to be white.
Reasons for challenge: Sexually explicit, "controversial issues."
The novel was challenged by a parent who wanted it taken out of the Durant High School library in Oklahoma. The school did not have it removed.
 
5) It's Perfectly Normal (1994), by Robie Harris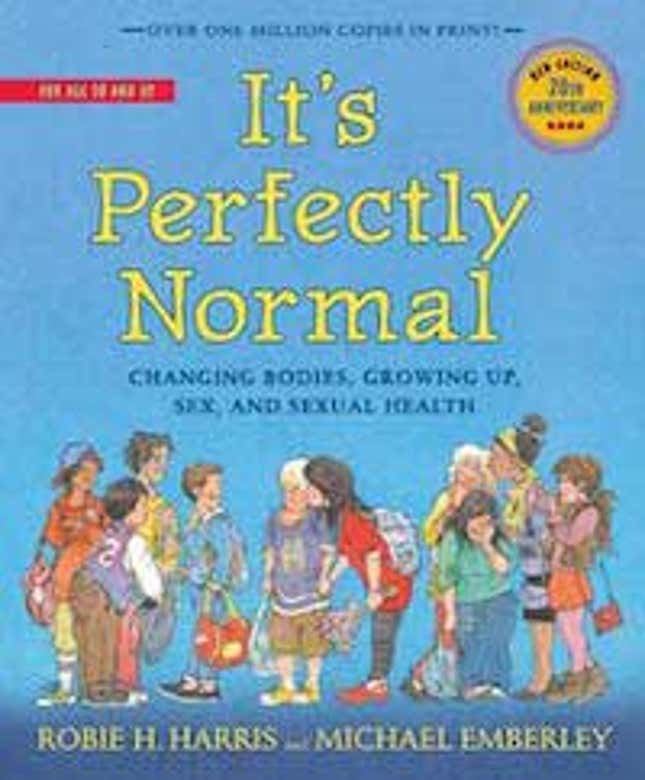 Synopsis: An illustrated guide for kids 10 and up on topics like puberty, sexual orientation, and sexual health.
Reasons for challenge: Nudity, sexually explicit.
This is the book's fourth year on the ALA's top 10 list, but so far this year there have been no known bans.
 
 
 
6) Saga (2012), by Brian Vaughan and Fiona Staples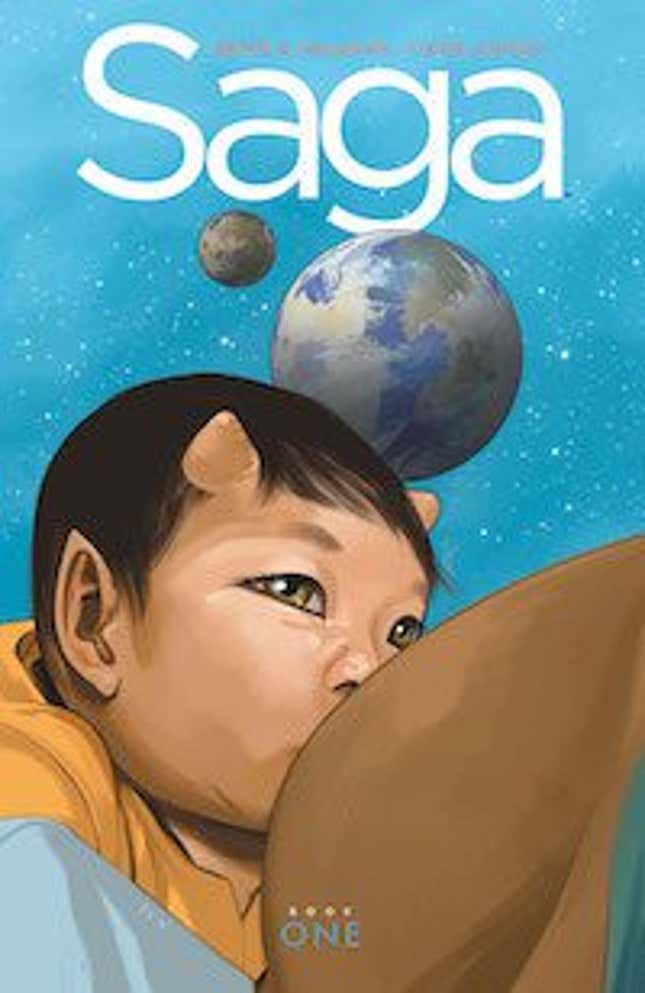 Synopsis: A space opera graphic novel series about the love between two (straight) soldiers from opposite sides of a war and life with the daughter they raise.
Reasons for challenge: Anti-family, nudity, offensive language, sexually explicit.
7) The Kite Runner (2003), by Khaled Hosseini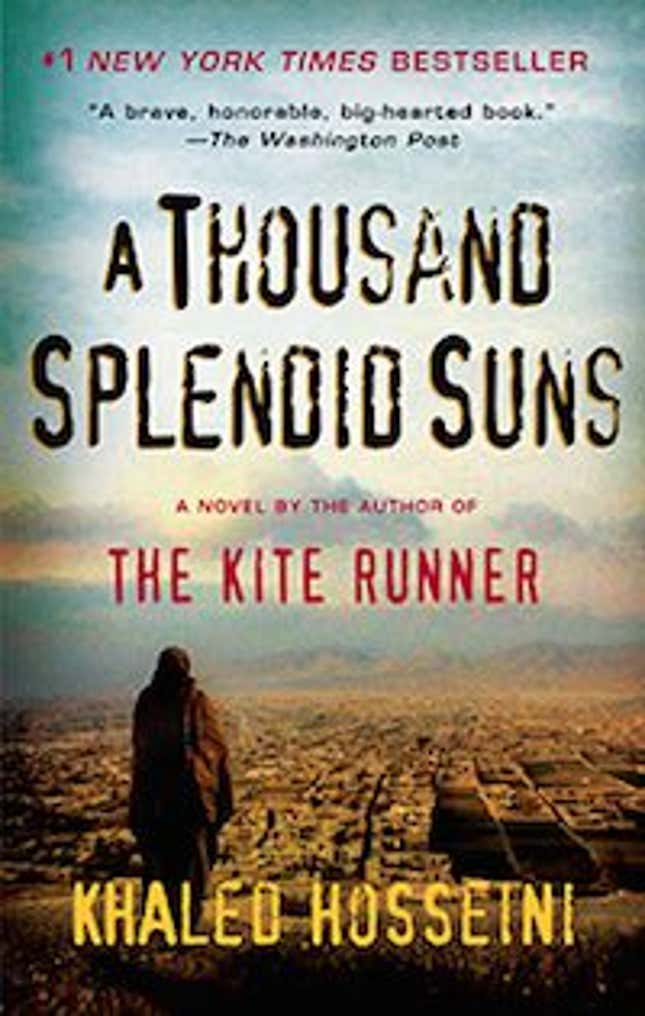 Synopsis: A story about the friendship between a wealthy boy and the son of the family servant, set against the backdrop of political tumult in Afghanistan beginning in the 1970s.
Reasons for challenge: Offensive language, violence.
The book was kept in Wisconsin's Waukesha West High School 2014 curriculum after it was challenged by a parent.
8) The Perks of Being a Wallflower (1990), by Stephen Chbosky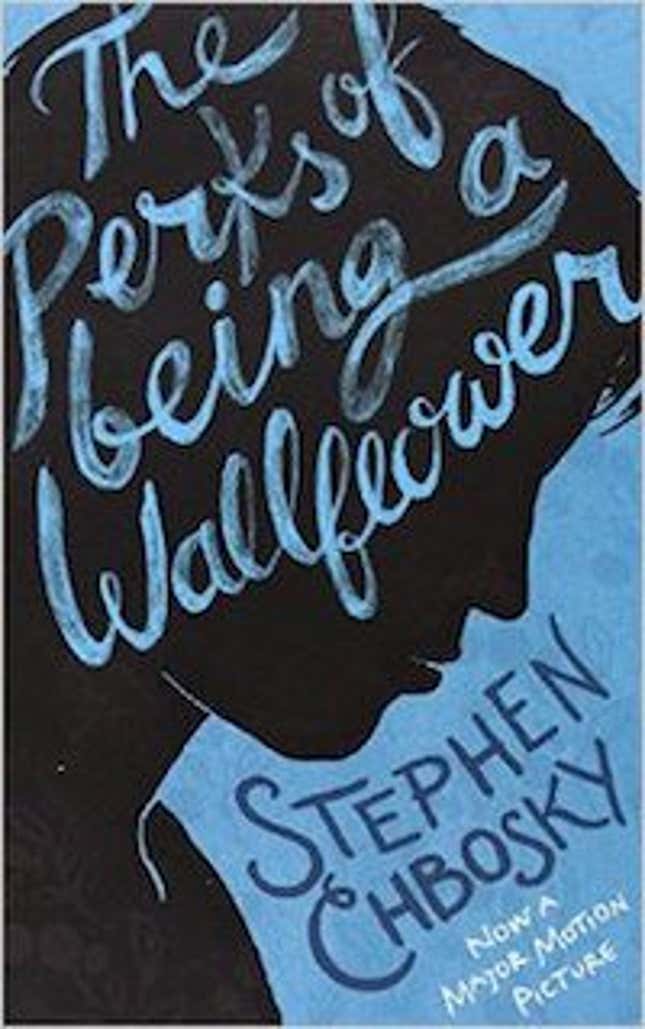 Synopsis: An introverted high schooler is befriended by two seniors and learns about sex, drugs, and mental health.
Reasons for challenge: Drugs/alcohol/smoking, homosexuality, mentions of date rape and masturbation.
In 2015, the book was taken out of the freshman English curriculum at high schools in Wallingford, Connecticut, but it was reinstated to the curriculum for the fall semester. In 2013 the book was taken out of 8th-grade classrooms in Glen Ellyn, Illinois, but the decision was later overturned by the school board. (The seminal YA author Judy Blume herself gave the ban a thumbs down.)
 
9) A Stolen Life (2011), by Jaycee Dugard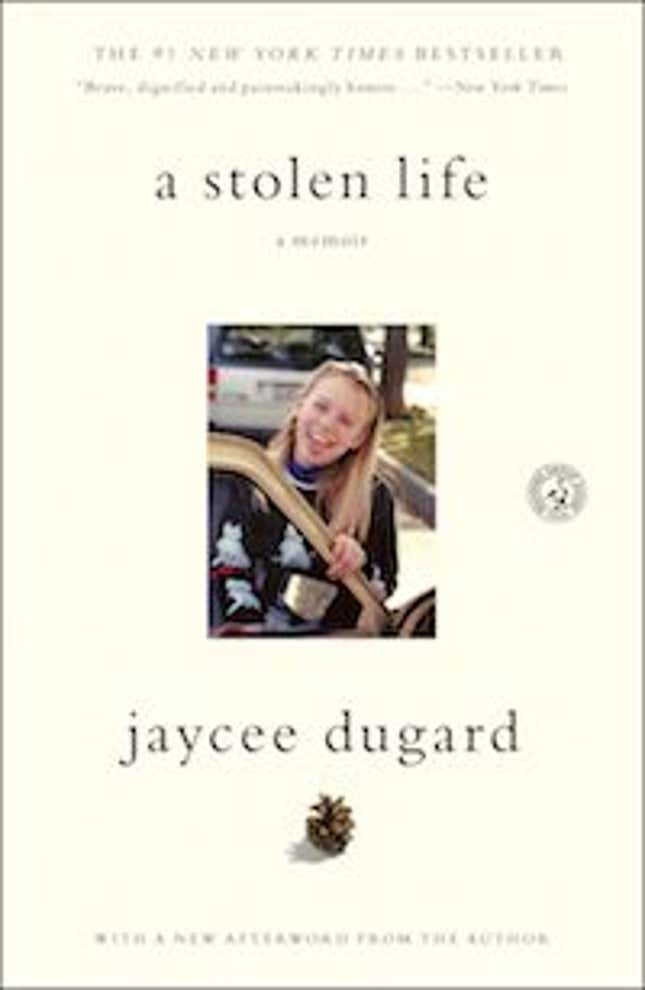 Synopsis: Dugard's memoir about her experience after being kidnapped at 11 and held captive for the next 18 years.
Reasons for challenge: Drugs/alcohol/smoking, offensive language, sexually explicit.
The book was removed from 7th-grade classroom libraries and taken off an elective reading list in Michigan's Northview public middle school system.
10) Drama (2012), by Raina Telgemeier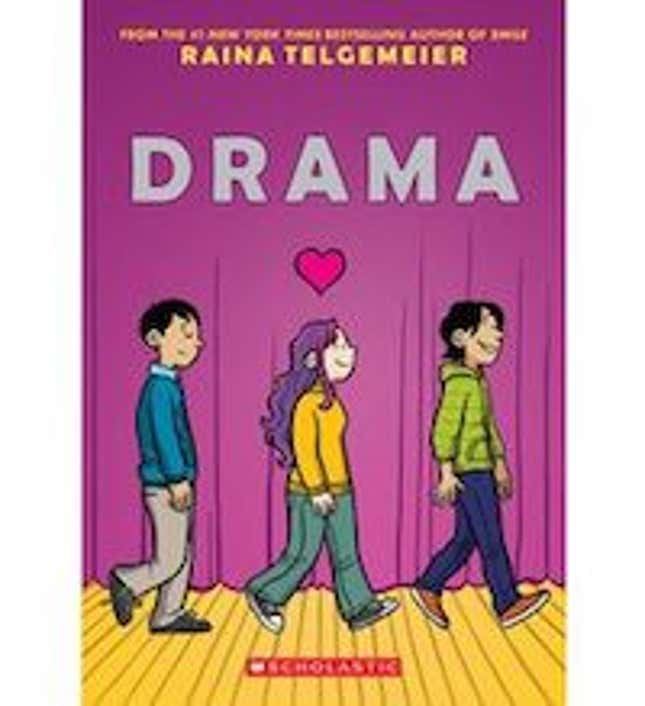 Synopsis: A graphic novel about a middle school theater stage crew and their various crushes and relationship drama.
Reasons for challenge: Sexually explicit, homosexuality.
The book was removed from Texas' Chapel Hill Elementary School library.
The OIF's mission, as deputy director Deborah Caldwell-Stone told Quartz, is to "make sure that members of a community who are using the public library are able to access a diversity of ideas across the spectrum of political, social, and religious thought without any restrictions placed on their access because of one individual." Since the OIF relies on librarians and educators to report incidences and has a small team that tracks controversies in the media, Caldwell-Stone estimates that the 311 reports from 2014 only make up about a quarter of all challenges that year.
Book challenges reflect current debates going on in society, adds Caldwell-Stone, which is why And Tango Makes Three, about two male penguins raising a baby penguin together, comes up so often.
But reasons for book challenges can also run the gamut: Last year, one patron of a public library in Toronto requested that Dr. Seuss' Hop on Pop be removed because it "encourages children to use violence against their fathers." (The request was denied.)