Volkswagen's diesel emissions scandal isn't just hurting the automaker's finances.
Platinum prices saw their biggest price drop since June 2013, when precious metals fell victim to the "taper tantrum" unleashed by former Federal Reserve chairman Ben Bernanke.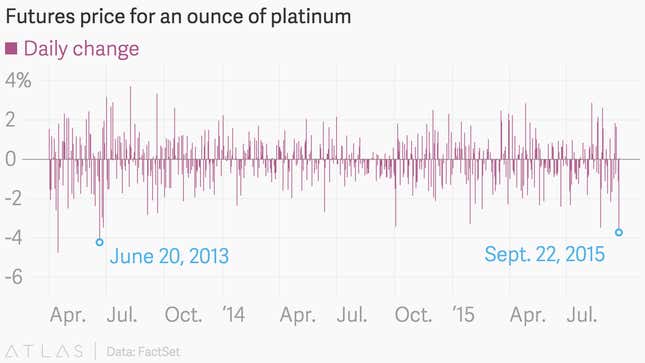 The current slide is being driven by the uncertainty created by Volkswagen's wrongdoings, which has broadly put a spotlight on diesel engines. French and British officials on Tuesday called for a European probe into automakers and diesel emissions.
Diesel vehicles, enormously popular in Europe, use platinum in their pollution-reducing catalytic converters, as opposed to gasoline engines, which use palladium.
Terence Philip Goodlace, CEO of South African mining company Impala Platinum Holdings, recently described the scale of the industry's platinum usage:
"If you look at the [catalytic converter] industry, 44% of platinum goes to Europe," he said during an earnings call earlier this month (September). "Europe, from a car manufacturer perspective, has grown for the last 22 months in a row."
To be fair, he said that even if diesels lost significant share in the European auto market, the change in demand for platinum wouldn't cause too many problems for his company and the industry as a whole. But with platinum prices down more than 20% this year and nearly twice that over the last three years, it's easy to see why investors would still worry.