Banksy's Dismaland, his dystopian version of a Disney theme park in a rundown English seaside town, will be dismantled and all fixtures will be sent to the refugee camp to build shelters near Calais, France.
The park, which "acknowledges inequality and impending catastrophe," made the impromptu announcement—"coming soon… Dismaland Calais"—on its website, accompanied by a superimposed image of a fire-ravaged Cinderella Castle overlooking the refugee camp. The park came to a close yesterday (Sept. 27) but the announcement didn't state who would actually be building the shelters or how the project would work.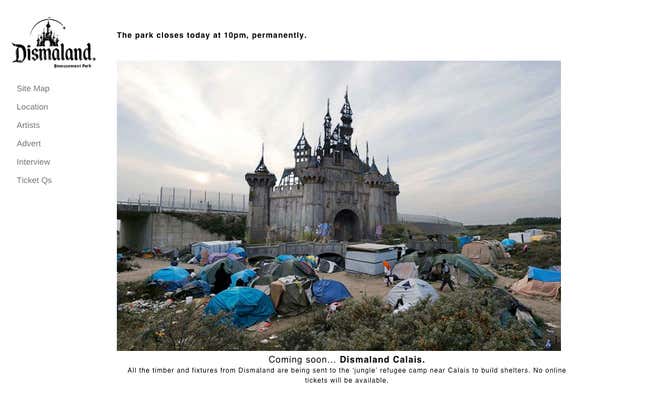 The attraction, in Weston-super-Mare, was a huge hit with 4,500 visitors attending everyday, the BBC reported. Tourism chiefs in North Somerset estimates Dismaland brought in £20 million ($30.4 million) in the last five weeks. In an interview with the Sunday Times, Banksy says he was keen to kickstart a conversation about the refugee crisis between children and their parents.
His message was best illustrated with the boat pond at Dismaland in which visitors had no control which boats they were operating, having little choice on whether their destiny was to become an "an asylum seeker or a Western superpower."
The camp in Calais is now home to 5,000 people, predominately from East Africa and the Middle East. Peter Sutherland, a senior UN official, who visited the camp yesterday, slammed both British and French officials for not doing more to address the plight of refugees camping there. He called on both the governments to open a permanent asylum assessment center in Calais to process the refugees.
Thousands of migrants have attempted the dangerous crossing through the Channel Tunnel to reach the UK. Just last week, a teenager died near the entrance of the Channel Tunnel. Officials say he was killed by a freight train.