Disneyland too busy this weekend? Try Dismaland.
Dismaland Bemusement Park, as it is officially called, is a sly take on an immersive art exhibition from the controversial street artist Banksy. Located in a working-class seaside resort town in England, it is scheduled to open its doors to the public from tomorrow (Aug. 22).  Star Wars amusement park, this is not.
Instead of simply displaying the 58 works by his fellow contemporary artists such as Damien Hirst, Jenny Hotlzer, and David Shrigley—themselves providing ample provocation—Dismaland strives for simulacra in the name of satire. Using familiar tropes associated with theme parks, Banksy's dystopian wonderland has rides, a merry-go-round, a killer whale jumping through a hoop á la Sea World, and even concerts. Performances by Massive Attack and Pussy Riot are on the schedule.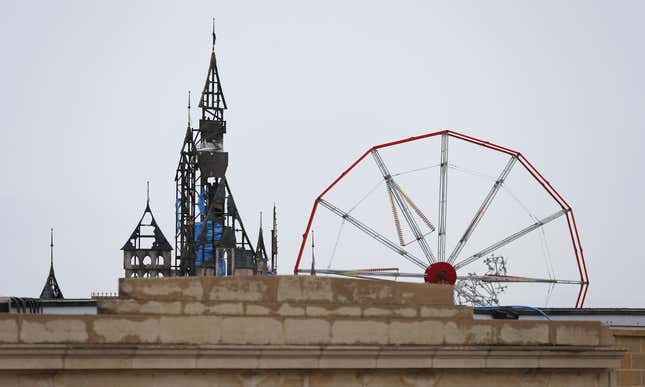 A reversal of Disneyland's infamously cheerful and solicitous staff (a.k.a. "cast members"), Dismaland's attendants, it seems, have been instructed to exude boredom, disinterest, if not outright despair.
Zombie-like dead eyes are de rigueur.
Working the fair grounds like a sidewalk portrait artist, British artist Nettie Wakefield creates rather astutely-rendered pencil drawings of the back of her sitters' heads.
Park rules are simple: "No spray paint, marker pens, knives and/or legal representatives of the Walt Disney Corporation are allowed," as stated on Dismaland's website. There is also a security checkpoint propped with fake body scanners and apathetic guards armed with those ubiquitous metal detector security wands, all crudely constructed in cardboard.
"Theme parks should have bigger themes," Banksy said. Despite his efforts to deflect the spotlight back to the group art showcase, Dismaland can easily be construed as the artist's ultimate critique on the perceived mind-numbing and overly-commercialized theme park experience doled out by Disney. Parody, lampoon, caricature, and satire abound in Dismaland. Banksy's ambitious five-week fiasco, if anything, vivifies the various modes of criticism and social commentary achieved through art.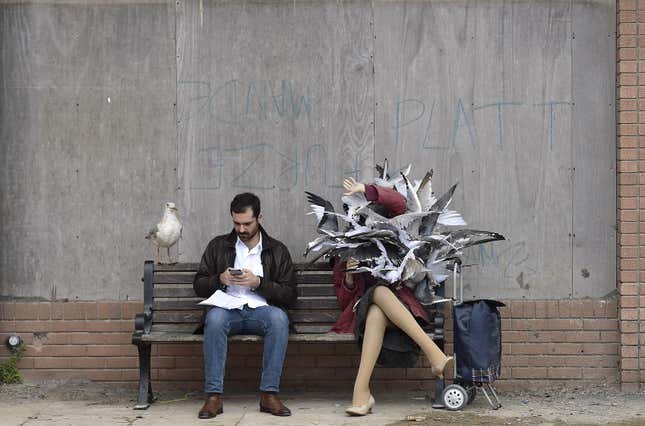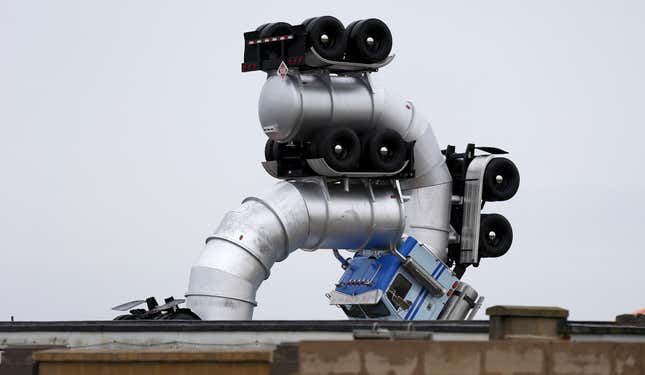 The exhibition, Banksy's largest to date, is a culmination of the elusive artist's obsession with the Walt Disney Corporation. From Snow White recast as a masked anarchist holding a grenade like the poison apple to a woeful Dumbo the elephant maimed by a rocket launcher (video), Disney characters have been favorite targets and messengers for Banksy's politically-charged parodies over the years.
True to Banksy's modus operandi, Dismaland was constructed amidst a cloak of secrecy with help from local town officials. "We have been working closely with the organizers for months now," said Nigel Ashton of the North Somerset Council to the BBC. "For obvious reasons, [we] have had to remain tight-lipped about the true nature of the event."
As a reward, local residents will get the first opportunity to experience the park with an exclusive preview scheduled for today (Aug. 21). Dismaland Bemusement Park is open until Sept. 27.