It's not just disgraced politicians and careless celebrities any more: Real people are having naked photos of themselves pop up online. Some 13% of American adults have had personal data posted online without their permission, and around half of those were smutty photos. That's according to an unnerving study on relationships and online privacy done by cyber-security company McAfee.
One reason that should give everyone pause is the approach of Valentine's Day on Feb. 14. Apparently, the way to say "I love you" is increasingly with a racy selfie—just over one-third of the study's respondents are planning on showing skin and hitting send. (And that's just the people who plan these things enough in advance to tell McAfee about it—and presumably line up some ambient lighting.) Even when not feeling festive, half of respondents said they send risqué photos or videos of themselves to their partners and friends.
And when things are really bad, they send the photos their partners sent them to other people. Here's BuzzFeed's portrayal of what prompts scorned lovers to retaliate when things go south: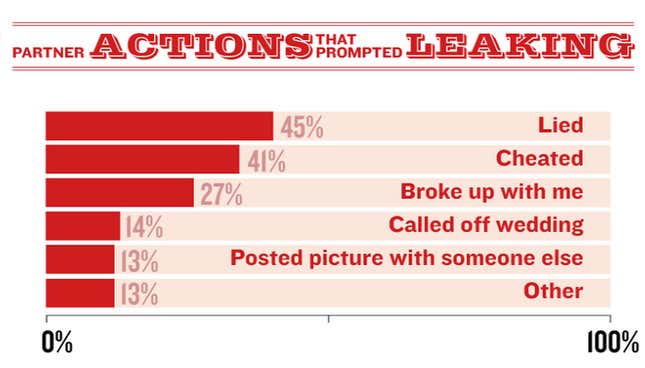 There are a few reasons for concern here. First, there's where photos leaked by exes tend to end up—and it's "much more public" than Facebook, says Robert Siciliano, online security expert for McAfee. "There are dozens of 'ex' porn sites," he tells Quartz.
Then there's that, according to the report, people are snooping through their romantic rosters at epidemic levels. For instance, even money says your ex is stalking you on Facebook or Twitter right now. And for those in the 18-24 age group, there's a two-in-five chance that your ex's current partner may be stalking you as well.
But that's not to say that online privacy is vigilantly observed at home. Almost everyone in the report trusted their partners with the data, such that half freely shared their password with them and almost as many left their cellphone lying around unprotected by a password. That's even though 56% of respondents admitted to snooping through their partner's social media page, bank account or email.
Somewhat surprisingly, men are way more active snoopers, dirty-pic-snappers and cyber stalkers, compared with women. There may be some karma at play, though: More men see their sexy photos leaked online.
Of course, there's money to be made somehow from all these human foibles. McAfee is promoting its security products off this research, talking up the #SextRegret hashtag on Twitter and offering a product discount just in time for Valentine's Day indiscretions. There is a Facebook relationship status alert app called Breakup Notifier, which amassed more than 100,000 users in less than 24 hours in 2011 and is still helping people save time while stalking. Now there's Snapchat, which, as we've discussed, offers all the thrill of racy photo-sharing with almost none of the regret. Then, of course, there are also lawyers' fees involved in getting the compromising photos off the internet. And, more generally, apps for  maintaining relationships, solving problems in them, ending them, and raking through the wreckage of them seem to be alive and well in iOs and Android app stores.
The best approach to avoiding all of this, say the experts, is the old-fashioned one: Don't share passwords. "When 50% of all relationships are doomed to failure, and 50% of people share their passwords in a relationship, chances are something sensitive will be leaked online," says Siciliano.
And as Valentine's Day approaches, remember that love may fade—but those pixels sure won't.