There are a lot of ways shoppers can customize their sneakers these days, but they're focused almost entirely on superficial elements, such as the sneaker's color scheme. Adidas wants to go a step further and let you customize the way your sneakers fit.
The company announced yesterday (Oct. 7) that it's introducing a customizable, 3D-printed midsole called Futurecraft 3D. Theoretically, it will allow anyone to get a perfect-fitting shoe made on the spot, with what the company describes as a "flexible, fully breathable carbon copy of the athlete's own footprint, [with] matching exact contours and pressure points."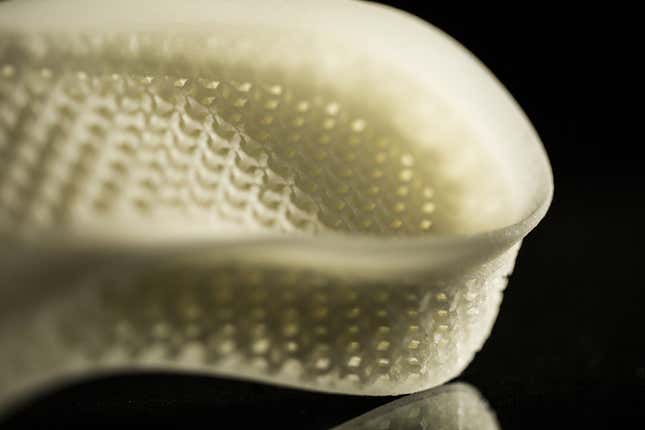 The midsole is the "first chapter," as Adidas put it, of a larger Futurecraft series that it says will introduce "more ground breaking design innovations in the coming six months."
The advance also hints that the prospect of 3D-printing an entire sneaker—not just a midsole or an insole—is something that might not be too far off.
Just a few days ago, Nike executive Eric Sprunk was musing on a near-future when you could 3D-print your Nike sneakers at home or in a Nike store.
In that hypothetical scenario, the customer isn't buying a sneaker from Nike, but rather a file containing the instructions to 3D-print one. The customer could then print the pair at home, or at a Nike store.
Looks like 3D printing might be the next frontline in the battle between Adidas and Nike.