In theory, 3D printing offers a future where you could easily print just about anything you want. So far, it's failed to be the miracle consumers were promised, but there's one believer who's worth paying attention to.
Eric Sprunk, Nike's COO, recently attended a summit held by tech news site GeekWire, where he talked about the innovation in Nike's Flyknit technology and what it suggests about the way sneakers could be made in the future. Based on what Nike is already doing with Flyknit, Sprunk says the ability for consumers to 3D print a pair of sneakers is close at hand.
The way it might work goes something like this: You could head to Nike's website, customize a sneaker to your specifications, and buy a file containing the instructions for the 3D printer. If you have a printer at home, you could print it yourself and have a new pair of sneakers in a matter of hours. If you don't, you could take the file to a Nike store and have them print it for you.
"Do I envision a future where [Nike] might still own the file, from an IP perspective—because it's a Nike product; you can't have just anybody make a Nike product—and you can manufacture that either in your home or we will do it for you at our store?" Sprunk said at the summit. "Oh yeah, that's not that far away."
It's similar to the process Nike uses to make the uppers on its Flyknit sneakers, which are literally knit—like "a sweater on your foot," Sprunk says—by machine. Traditionally, Nike would send a "tech pack" containing drawings, fabric swatches, and other specifications to a factory in Asia, where different workers assemble the sneaker. To make a Flyknit sneaker, however, Nike just sends a file, and one person feeds the instructions into the knitting machine to create the shoe. One person is capable of operating several knitting machines.
That change in the manufacturing paradigm is why knit sneakers, which both Nike and Adidas worked on for years, represent one of the biggest advances in sneaker technology since Nike was established. It's also why Sprunk said at the summit that Nike's Lunar Flyknit 3 is his favorite sneaker.
Theoretically, 3D printing could be the next extension of that.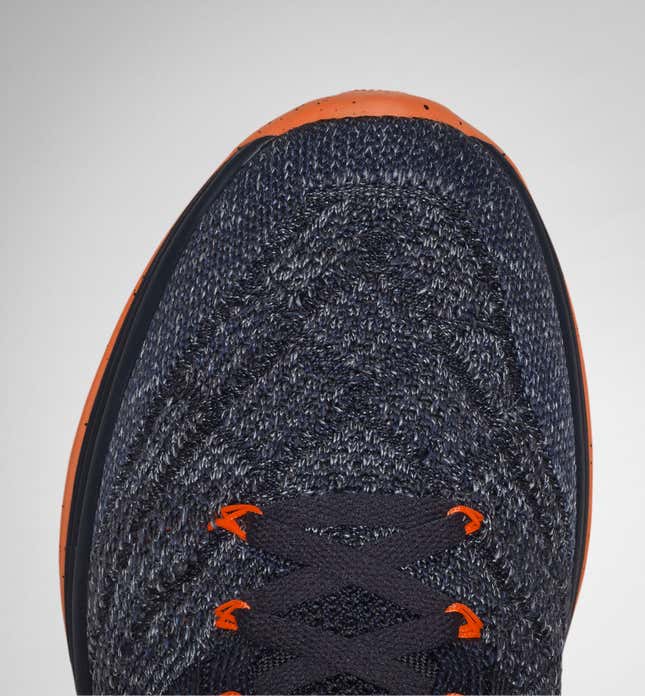 Other companies are toying with 3D printing footwear too, such as SOLS, the New York startup backed by Carmelo Anthony of the New York Knicks.
But probably no other player in the space has pockets as deep as Nike's, or the same record of innovation. Sprunk even says Nike has a "huge initiative" called "manufacturing revolution." (Maybe it's the reason for some of Nike's stranger patent filings, such as this one for a method of designing sneakers with virtual reality goggles.)
There are still hurdles to clear. First, a consumer would need a 3D printer, which is not exactly a small purchase. And right now you can't 3D print a Nike sneaker's sole—even Flyknits need a separate sole attached.
But clearly the potential is there.