This week, the US and 11 other countries signed up to a free trade agreement spanning the Americas and the Asia-Pacific region. The Trans-Pacific Partnership (TPP) allows countries making up 40% of global GDP to lower or abolish tariffs, making trade cheaper and promoting business in all countries involved.
But China, the largest economy in Asia, wasn't part of the negotiations. The US has at times framed the TPP as a way for it to write international trade rules instead of China (paywall), and to secure its influence in the Asia-Pacific region. In response China has been negotiating its own free trade agreement, named the Regional Comprehensive Economic Partnership (RCEP).
Of course, China might still join the TPP, but it has been busy pushing its counterbalance nonetheless. How do the two agreements—neither of which are in action yet—measure up?
Who's involved?
First of all, let's see which countries are involved in which free trade deal. The TPP has 12 members at present and the RCEP involves 16; seven of them overlap: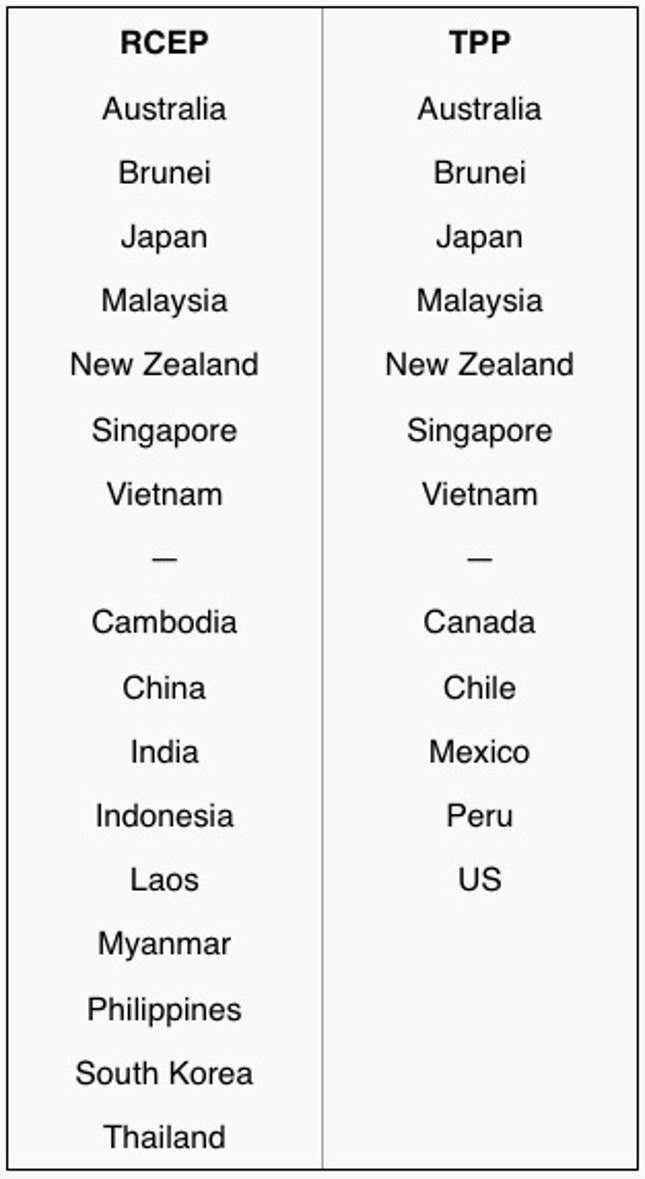 Trade
One of the big numbers thrown around at the signing of the TPP was that it would cover "about 40% of the world economy." That sounds impressive, but the deal is about trade, not GDP; the countries involved represent closer to around 13% of global trade. RCEP countries aren't far behind, at around 12%:
Current GDP
Should we assume that the collective GDP of the countries involved is indeed crucial, then the TPP's "about 40%" figure—International Trade Centre data puts it at 36%—certainly beats out the RCEP, which represents 29% of global GDP:
GDP growth rates
So far, the TPP appears to cover more trade between a richer segment of the world. But TPP countries as they stand today are also slower-growing than RCEP ones. This chart shows how, as a mean average, RCEP nations have outpaced TPP ones in GDP growth:
Population
If population is also a driver of growth, RCEP wins again, as it will apply to almost half the world's population; that's more than four times the number of workers and consumers covered by the TPP:
India
Aside from all the talk of China and the US, though, the below maps also highlight one other significant member of the potential RCEP deal: India.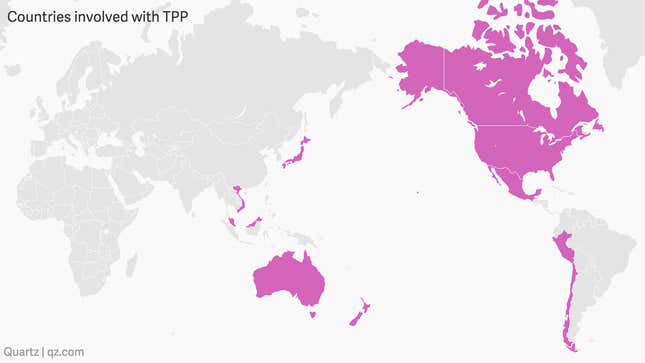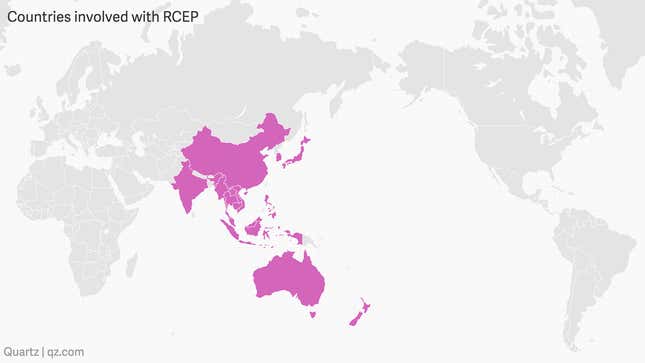 India may one day join the TPP, too. But until it does, its inclusion in whatever RCEP deal gets hammered out will give China's own free trade agreement low-tariff access to hundreds of millions of workers and consumers that are, so far, out of reach to the TPP deal.